Brothers Converts Priest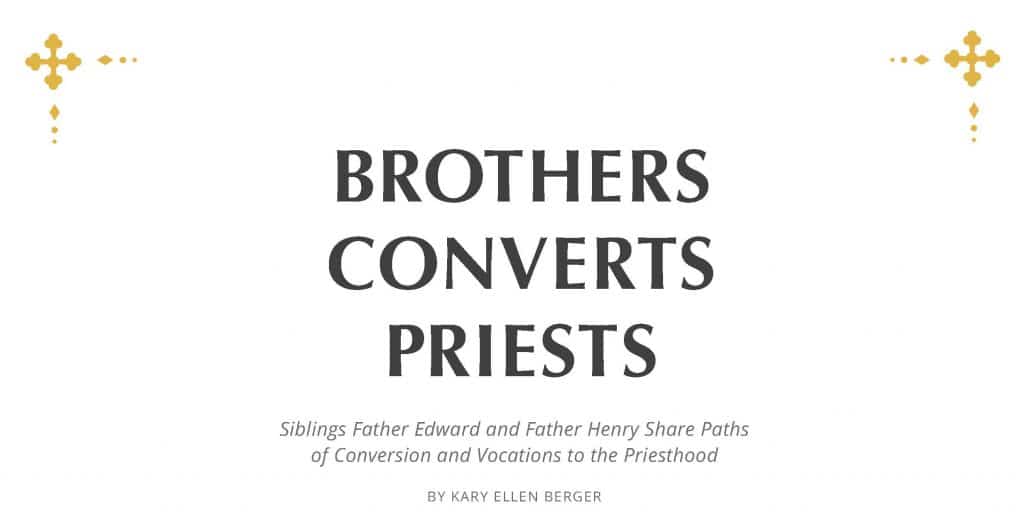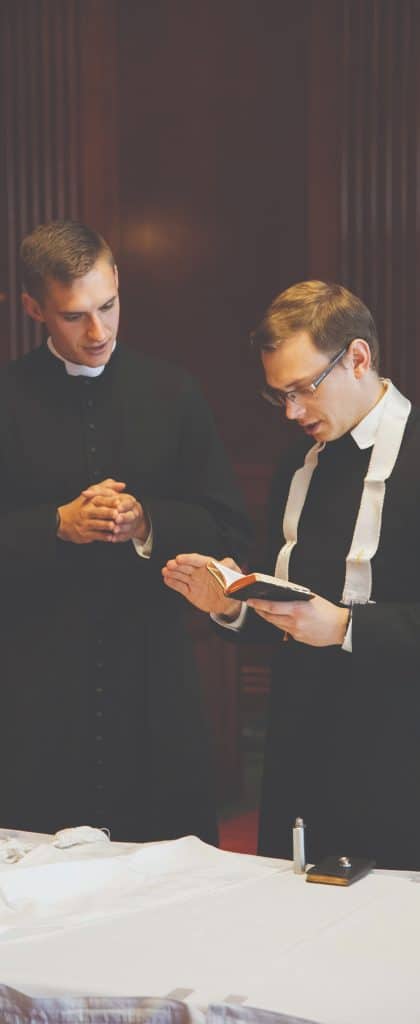 For many, practicing the Catholic faith is a given. Their families were Catholic, they were baptized Catholics and they continued living out their faith as they grew up and established their own families. Others, however, choose to become Catholic and embrace what it means to be a member of this religion.
Fathers Edward and Henry Hoffmann not only chose Catholicism as their religion, they also chose to take up the Word of God daily by becoming priests. Father Henry first moved towards conversion while at college in Michigan.
"I was received into the Catholic Church at the parish near my college, St. Anthony's in Hillsdale, Michigan, in the Easter Vigil of 2013," Father Henry said. "I studied history at Hillsdale College, and, as St. John Henry Newman would put it, 'To be deep in history is to cease to be Protestant.' I don't think that one can honestly and sincerely study the history of Christianity and not be led to the truth of the Catholic faith. But it was the incarnational and sacramental beauty of the Church that most attracted me. I wanted to be Catholic long before my intellect accepted its doctrinal truth, because of the Church's beauty and the wonderful tradition that she embodies."
Father Edward followed in his brother's footsteps shortly after Father Henry's journey to Catholicism began. "Father Henry's conversion was a big influence on me," Father Edward said. "In addition, providence put a few authors in my life that brought me to the Church: First, C.S. Lewis, who moved me much closer to the faith, and Ignatius of Antioch, who brought me in the door. Ignatius, a martyr from the early Church, wrote letters to various churches in which a careful reader can discern all the essential elements of Catholic doctrine and discipline present in the late first century — an incredible witness to the apostolic origin of the Catholic faith."
He continued, "When I became convinced that the Catholic Church was the Church that our Lord founded, I was left with nothing but to convert. Lastly, learning about the appearance of the Blessed Virgin Mary at Fatima was another big influence on my decision to convert — the Mother of God told us to pray the Rosary and be Catholic — why not do it?"
The brothers followed different paths to the priesthood, but both wanted to serve the Church. "As a Protestant, I thought if I ever became Catholic, I would want to be a priest, and then, I did become Catholic, so I started thinking about a vocation right away," Father Henry said. "Initially, I was attracted to religious life, but after visiting several religious communities, I felt a call to serve as a diocesan priest and entered the seminary for the Archdiocese of Cincinnati.
"After two years of Pre-Theology studies, I left the archdiocese and joined the Cincinnati Oratory of St. Philip Neri in downtown Cincinnati. I joined the Oratory because of a desire to lead a more meditative life, and because of my attraction to the Latin liturgy. The Oratory combines a lot of elements of both religious and diocesan life. Essentially, Oratorian priests are like diocesan priests who live together and pray together, and are united by the sacred bond of charity in one communal life, under the provost of the house."
Having a desire to spread God's goodness via the Army, Father Edward noted that seeing Father Henry's journey helped lead him to become a priest for the Archdiocese of Cincinnati.
"My closest friends in college were discerning a vocation to the priesthood as well," Father Edward said. "I was at a Traditional Latin Mass at Sacred Heart Church [with Father Henry] when it finally hit me that God was calling me to be a priest."
"I was in Army ROTC when I discerned my vocation to the priesthood, and already had a commitment to serve in the Army," said Father Edward. "God had narrowed down my options to those that would permit me to be a military chaplain in a few years. That led me to discern thediocesan priesthood, in which I'm now honored to serve. After three years of service in the Archdiocese of Cincinnati, I'll serve at least five years as an active-duty Army chaplain."
Each brother participated when the other received the sacrament of Holy Orders, making their commitment to the Church even more special.
"Father Edward was the deacon for my ordination, so it was he who called my name to summon me to the altar," Father Henry said. "That was a powerful moment, only surpassed when I was able to lay my hands on him at his ordination, and know that we shared as brothers in the most precious gift that God can give to men."
This article appeared in the November edition of The Catholic Telegraph Magazine. For your complimentary subscription, click here.