Building "Hope" in Willowdell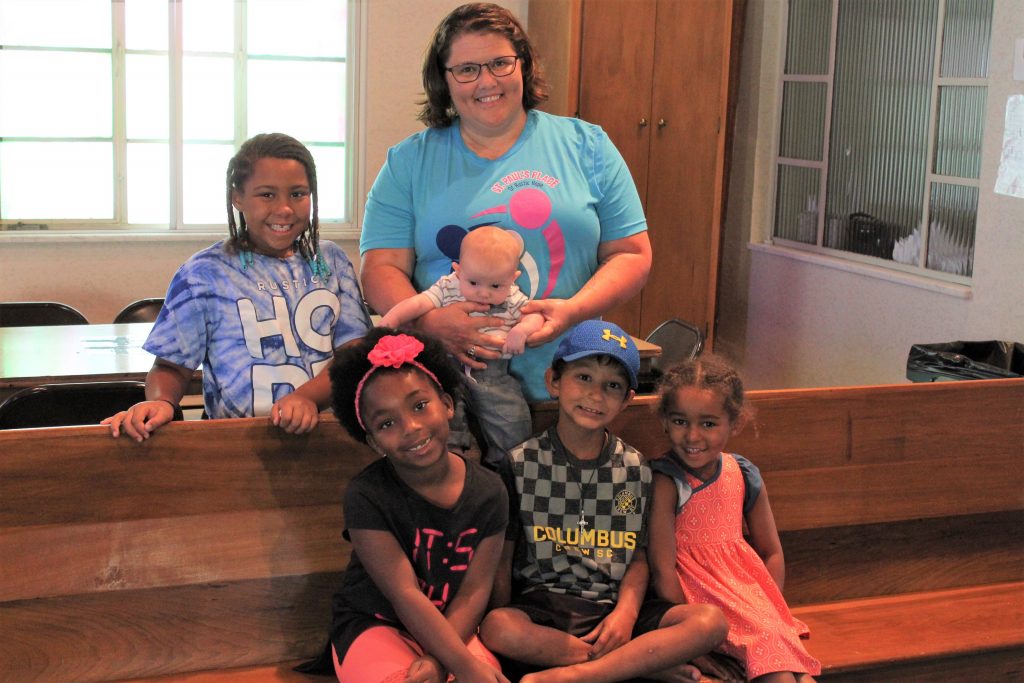 Story & photos by Susie Bergman
Connie McEldowney is very clear about one thing: The mission she oversees is not hers; it is God's. As we sat together in the newly renovated St. Paul's Church in tiny Willowdell, she cuddles and cares for the newest addition to her family: 2-month-old Crew. He's the smallest member of her family of 12, born from a special needs couple and adopted by Connie and her husband, Craig.
Together they oversee Rustic Hope, a non-profit she started to help single mothers with temporary housing, transportation, food, clothing, baby supplies, daycare, adoption information, post abortive counseling and parenting classes.
Like many other things within her journey, McEldowney admits that adopting Crew was something with which she struggled and even argued with God. Similarly, she recalls driving to Willowdell one day to take a look at the church that was being gifted to Rustic Hope and saying to God, "I can't do this! The timing is all wrong."
But as she approached a stop sign, she saw something amazing: A bald eagle flew overhead and stopped in the field next to her. In that moment, she knew God was speaking to her, but she wasn't exactly sure what the message was. Later that day, she told the story to a friend who immediately exclaimed, "Isaiah 40, verse 31!"
The verse reads, "But those who hope in the Lord will renew their strength. They will soar on wings like eagles; they will run and not grow weary, they will walk and not be faint."
That verse is now forever etched into McEldowney's daily thoughts, and the sign she received that day was just one of the many ways God has told her to "get out of the way;" that this mission is not hers, it's His.
And the opening of St. Paul's Rustic Hope is a result of that mission. The 157-year-old Lutheran Church in Willowdell closed its doors in April 2019. As McEldowney recalls, the church's owners approached her numerous times about taking it over as an extension of Rustic Hope's current operation in Russia, a small town on the Shelby and Darke County borders. She admits she was hesitant about their proposal because she felt overwhelmed with everything she was currently working on and was unsure of what to do with the property. Fast forward four short months from that moment of doubt. McEldowney trusted in God, and the alteration of the Church has been amazing.
She gives all the credit to the community of faith that stepped up and transformed St. Paul's Rustic Hope into what it is today. Once the news broke of the new plans for the church, volunteers and donations showed up in droves. The main section of the church has been converted to an indoor playground, a place for single mothers to feel comfortable leaving their children to play while they attend one of the many classes offered, pick up needed food or diapers or just spend time with McEldowney herself, who has become a role model and motherly mentor.
At St. Paul's Rustic Hope, mothers can attend classes that range in topic from managing finances and cooking to self-defense and auto care. All of these educational resources are aimed towards arming young, single women with the skills they need to protect and care for their families – and all services at St. Paul's Rustic Hope are donated free of charge by members of the community. Between the two locations, the mission is currently serving over 400 single mothers across the Miami Valley area.
McEldowney's testimony to the power of "getting out of the way" and listening to God is amazing. It is clear though that all of the volunteers and anonymous donors who made this mission possible were also listening to God's call in their lives. Her advice to others who are seeking their calling in life? "Listen to your prayers. Are you asking to serve God?"
The first prayer that started Rustic Hope many years ago happened while she was driving home from an abortion clinic, where she had been encouraging young women to choose life. She explained, "I told God I didn't know what more I could do. All I have is an open heart…use me."
And He did. For more information on Rustic Hope, visit rustichope.org.