By Right and Duty: Fostering Faith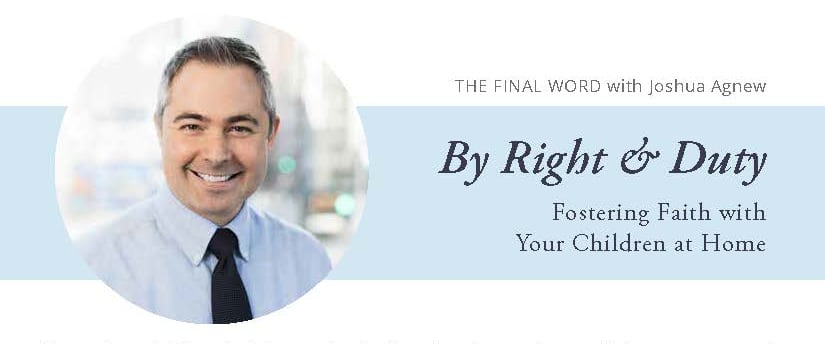 There are thousands of tips and techniques out there for all aspects of parenting. But the single most important one gives meaning and purpose to the joys and struggles of everyday life: eternal salvation!
God has given us charge over our children for His good purpose; namely, to teach them to know, love and serve Him in this life, so they may be happy with Him in the next. Sometimes we partner with Catholic schools or parish programs to teach them about their faith, but we must reinforce it at home. Parents, this is our right and duty; this is our path to heaven. I offer some tips to help you foster your children's faith.
PRAY WITH AND FOR YOUR KIDS.
Teaching children to pray is one of the best habits we can instill in them. Our Blessed Lord already knows everything about us, but communication is how relationships are built. Our connection with our children is strengthened when they share their joys, problems, concerns, accomplishments, etc. with us. These conversations mature as they grow older, as does our relationship with God as our faith matures.
Not all parents are comfortable engaging in prayer out loud, so practice! Do not be afraid to start now, even if your children are older. It will become a habit and take root in your family. Here are a few practical times to pray with your children:
Morning offering: These vary by age and maturity, but you are offering every thought, word, and deed for the day to God. Grace before meals: "Bless us O Lord and these Thy gifts…" Night prayer before bed: "Now I lay me down to sleep…"
TAKE YOUR KIDS TO MASS
Yes, going to Mass on Sunday is an obligation for Catholics, but it is because our Lord and Savior Jesus Christ loves us and knows our every need. He knows we must be strengthened by communing with Him, by physically receiving Him. In doing this, not only are we edified as parents to conquer the great task of raising children, but our children grow up seeing that God takes priority. We want our children to obey when we give them rules and boundaries, but they need us to show them by example. Just as we have more knowledge than our
children and wish to guide them properly, God has infinitely more knowledge than us, and asks us to have faith in Him.
APOLOGIZE TO YOUR KIDS
We are parents, and thus are the teachers of our children. The teacher is always right, right? Not really. Assuming we are parenting with truth, we may not always do so in charity.
I'm sure you can think of a time when your response to a belligerent child or snarky teenager was less than charitable. It is okay to say you are sorry for reacting the wrong way or doing the wrong thing. God gives us the sacrament of Confession to do the very same thing, to repair our relationship with Him for our wrongdoings. If we want to teach our children to apologize, then we must lead by example. Let your children know you are sorry when you are wrong. Let them know you go to Confession and take them when they are of age. We are
to be a people of forgiveness and mercy as God has shown us!
The Church teaches us that, "Parents have the most grave duty and the primary right to take care as best they can forthe physical, social, cultural, moral and religious education of their offspring" (Code of Canon Law 1136). We all want our children to make good and prudent choices. Children learn by what they are exposed to, especially by what we do and allow as parents. It is imperative that we give our children the foundation needed to make good choices, prepare them for life in this world and set them on the path to heaven.
JOSHUA AGNEW is the Deputy Superintendent of Catholic Identity for Catholic Schools in the Archdiocese of Cincinnati. He is a husband and father of nine children.
This article appeared in the August 2022 edition of The Catholic Telegraph Magazine. For your complimentary subscription, click here