Cardinal Francis E. George lecture at Athenaeum draws big crowd [Video]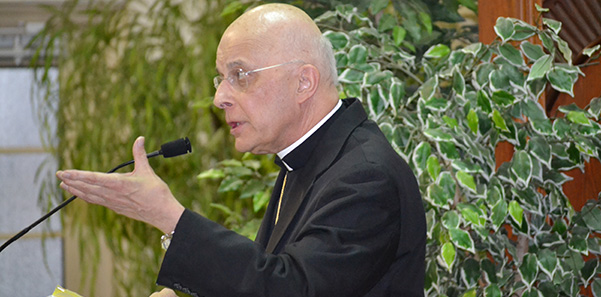 By Steve Trosley
The Catholic Telegraph 
"A member of the Cardinal's staff told me that attending one of his staff meetings was like watching a one-man think tank," Archbishop Dennis M. Schnurr said Wednesday evening after the Gardner Lecture in Moral Theology at the Athenaeum.
Cardinal Francis E. George discussed — in practical and philosophical terms — "Human Rights and Religious Freedom" for more than an hour before a packed Bartlet Pastoral Center audience of clergy, religious, seminarians and lay listeners.
It was, as Archbishop Schnurr said, like watching a one-man think tank. Join those who were in attendance  by viewing the video at the end of this post, which includes roughly six minutes of the Cardinal's lecture.
Using the recent Conclave that elected Pope Francis as an example of freedom, Cardinal George wound his way through the evolution of ecclesiology in the Church.
"We've been struggling to be free for 2,000 years," he said listing the imperial, statist and other government attempts to control the church before the 20th century. "Now we need to be free of the influence of the media.
"Ecclesiology (a theological study of the Church) came to the table late," the Cardinal explained and was the driving force of Pope John XXIII's call for the Second Vatican Council. He said the Church had become self-referential, "more like a museum instead of an instrument to change the world."
He also explained the fundamental issue with the HHS Contraceptive Mandate is really all about government wanting to define what makes a church and its institutions religious. He said government was a threat to religious freedom when it uses "positive law to create a civil right that destroys a moral good."
When a questioner asked how to address this issue and others now challenging the Church, he said, "I'd like to tell you I have a solution, but I don't." He said the U.S. Bishops welcome any ideas Catholics have on the matter because, "the bishops are not certain."
The Gardner Lecture on Moral Theology, although established 15 years ago, was this year part of a series of Athenaeum-sponsored events marking the Year of Faith in the Archdiocese of Cincinnati.
Editor's Note: A more comprehensive article on Cardinal Francis George's lecture will appear online early next week.