Catholic at Home: Fill your home with faithful Art
When we moved across town last February, one of the first things I did was hang our wall decor to make our new home feel like it belonged to us. The first thing to adorn our new walls was a crucifix. Modest in size, our crucifix packs a punch when it comes to meaning. With no words beyond the inscription "INRI," it invites me to love, sacrifice and humility. It also points to the protection of Christ and that with Him, I can endure difficulty. There's a depth of love the crucifix embodies that words fail to express.
Faithful art has a way of doing that. In imitating God as the Creator, an artist can draw out beauty, truth and goodness that, when placed in our homes, fortifies our faith. This is essential because the family is two things: the domestic church and the building block of society. With our spouses and children we need to strive for prayer, reverence, virtue and community. Living this way has a ripple effect for others we encounter, and gradually, the world.
What we see and hear at home has a deep impact on us. St. Therese said, "The world is thy ship and not thy home." Holy images underscore her point – we're made for total unity with God and He wants us with Him in heaven. Sacred art isn't just a nice thing to have – we need it.
WHERE TO FIND CATHOLIC ART

Finding Catholic or faith-based art is simple with a quick online search, but depending on your budget, the prices might be overwhelming. An unexpected place to look is your local thrift store. Browsing in Goodwill one day, I spotted a lovely statue of the Holy Family for $1.99. I planned to donate it to my parish library or gift it to a friend – whatever I needed to do to rescue it. Once I brought it home, however, it became a favorite among our children, so here it remains, still with the price tag on the bottom.
Another family favorite came from eBay – the result of a search for "Our Lady Star of the Sea," my spiritual patroness. Check eBay, Etsy or Facebook Marketplace. You'll come across some unique finds by searching for your favorite saints or images of Jesus and Mary.
REFRESH YOUR EXPERIENCE OF SACRED IMAGES

Sometimes we get used to a work of art and it doesn't draw our attention after a time. To combat this, try shifting things around. Take your favorite wall hanging, statue or holy card and put in a different place so it grabs your attention again. If an item is situated more permanently, then walk right up to it and examine it more intentionally. Note your favorite details or notice new ones, and recall what they reflect about the Lord or our faith. It's customary to kneel before holy art in church, and we should feel free to do so in our homes, as well. Decades after her passing, I learned that my grandmother often knelt in brief prayer before crucifixes and other pictures in her home. It's funny, too, when my kids catch me mimicking my grandmother's devotion. Initially they were thrown off by Mom praying in the hallway, but now they know to wait a second while I wrap up my short hello to heaven.
Faithful art at home is foundational to deeply experiencing Catholicism. Without words, we receive a steady invitation to holiness from the gaze of a patron saint or crucifix, and through it we're drawn closer to the Lord.
One of my family's favorite pieces of art is a simple, carved picture of Our Lady Star of the Sea. Though we've all seen it thousands of times over the years, a new truth struck my 7 year-old recently. "Look!" he said pointing to the small boat in the corner of the picture. "Mary's watching the boat on the water. WE are on the boat! And she's making sure we get to Heaven."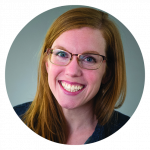 Katie Sciba is a national speaker and Catholic Press Award- winning columnist. Katie and her husband, Andrew, have been married for 11 years and are blessed with six children.
This article appeared in the February 2021 issue of The Catholic Telegraph. For your complimentary subscription, click here.