Catholic Charities Affirms Support of Migrants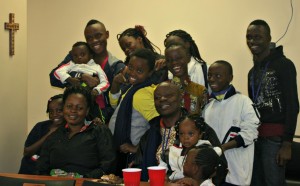 CINCINNATI, January 25, 2017 – Catholic Charities Southwestern Ohio affirmed its commitment to welcome the stranger today despite actions taken by the new administration.
"We are deeply saddened by today's actions because we believe all people are made in the image and likeness of God. All people – including migrants – are worthy of our respect and compassion," said Ted Bergh, CEO of Catholic Charities. "Immigration is about real people who are trying to find a better life and a new beginning. As Pope Francis stated in a congratulatory letter to President Trump, 'At a time when our human family is beset by grave humanitarian crises demanding farsighted and united political responses, I pray that your decisions will be guided by rich spiritual and ethical values that have shaped the history of the American people and your nation's commitment to the advancement of human dignity and freedom worldwide.' "
The Catholic Church has welcomed immigrants to the United States since the nation's birth. And through Catholic education and Catholic Charities, the Catholic Church has integrated generations of immigrants into American culture. In fact we are a nation of immigrants. Consider more than 40% of America's largest companies were founded either by immigrants or the children of immigrants. America is a better country due to the contributions of immigrants.
"Welcoming migrants – immigrants and refugees – is part of being Catholic and reflects the Biblical tradition to welcome the stranger and it is that is embraced by many faiths. We remain faithful and steadfast in our efforts to welcome the stranger," Bergh said. "We are grateful for the support of so many in the community who stand with us."
Catholic Charities Southwestern Ohio, a United Way Agency Partner, has been serving the most vulnerable in our community for 100 years. Our programs serve the poor, protect the vulnerable and welcome the stranger regardless of their religious background or country of origin. Our mission to enlighten, serve and empower is enabled by the generosity of donors and volunteers. Together, we serve and bring hope to more than 91,000 people last year.