Catholic Charities can provide hope when life is unbearable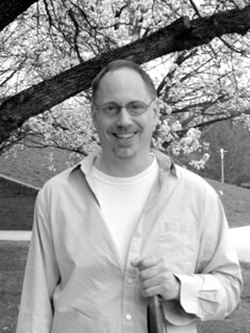 By Chris Klein
For The Catholic Telegraph 
Sometimes life can be hard; sometimes life can be unbearable. Pat Jones has learned to recognize the difference. He knows that when life feels unbearable, he needs to seek help.
Pat was in his mid-forties when he lost his will to live. He was diagnosed with Friedreich's Ataxia, a neurological disorder that would eventually rob him of muscle control. His mother and sister, both deceased, also suffered from the disease. The news of his diagnosis left Pat understandably depressed. In addition to losing another sister and a brother in separate accidents, Pat says, "It was just too much. I didn't care if I lived or died." At his lowest, Pat sought help from the counselors at Catholic Charities of Southwestern Ohio (CCSWOH). One of the region's largest providers of mental health counseling, CCSWOH has been helping clients of all ages and faiths for more than 27 years.
Pat reached out to CCSWOH for help because, "I knew I better talk to someone before it got too far," he said.
He meets his counselor, Sharon Sowders EdD, LPCC-S, LICDC most Fridays at CCSWOH's Montgomery counseling office. Counseling also is provided at offices in Delhi, Eastgate, Hamilton, Springfield, Urbana and downtown Cincinnati. "Sharon is a great listener," says Pat. "I talk to her about things I can't talk to my friends about."
Sowders and her colleagues, all licensed by the Ohio Counselor, Social Worker, and Marriage and Family Therapist Board, counsel clients with a variety of problems (see list).
"Our overall goal," she said, "is to help reduce their symptoms, improve their coping skills, and improve their functioning in their daily lives."
Counselors promote each client's spiritual well-being at every session. Some counselors have additional credentials pertaining to trauma and addictions. Spanish-speaking counselors are available.
"We encourage those who are struggling to call us, regardless of age, faith, or ability to pay," says Sowders, CCSWOH Director of Mental Health Services. Counseling is generally recommended for an individual, couple, or family if: 1) their symptoms cause significant distress; 2) their problems are affecting major areas of their life; or 3) their problems are putting them at risk of divorce, job loss, school expulsion or other potential losses.
At 49, Pat Jones says counseling not only relieves his symptoms of depression, but also helps him cope with his disability. "Sharon kept urging me to stay active outside of work and to get involved with other people," he says. Her encouragement led Pat to attend weekly presentations at University of Cincinnati Blue Ash about a topic he loves – classic movies of the 30s and 40s. Today, Pat moderates these presentations, sharing his knowledge with like-minded movie enthusiasts. "I really enjoy it," he says.
The U.S. Department of Health & Human Services has established May as Mental Health Month, placing special focus on the importance of a healthy mind. If you or a loved one thinks counseling may be helpful, call 513-385-9600.  For more information, visit www.ccswoh.org.
Common problems addressed by CCSWOH counselors include:

Anxiety
Depression
Relationship conflicts
Parenting issues
ADHD
Childhood sexual abuse
Substance abuse
Low self-esteem