Lay Perspective: Get to work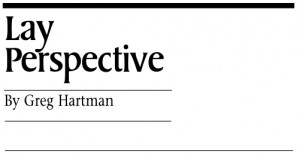 The popular T.V. series, "The Andy Griffith Show" had many memorable episodes. One episode that was quite funny was entitled "Aunt Bee the Warden". There was an overflow crowd at the Mayberry Jail and Otis is forced to be in the custody of Aunt Bee, instead of the jail.
Normally Otis would check himself in at the Mayberry Jail to sleep off the festivities of the night before. Aunt Bea would have none of that and put him to work doing all kind of chores. When Otis tried to sneak out, Aunt Bee would snap her fingers and tell Otis to get back to work.
Perhaps as the disciples were looking on as Jesus ascended into heaven, there was that same sensation from the angels who told them "Men of Galilee, why are you standing there looking at the sky? This Jesus who has been taken up from you into heaven will return in the same way as you have seen him going into heaven" Acts 1:11. It was time for them to build the kingdom of the Lord. As it is for us. It's now our time to build the kingdom, and in this Year of Faith a time to reach out.
The first question is what is your vocation?  It's actually simple: Our vocation is being Christ for one another. That's the simple part, but being Christ for others can sometimes be difficult. Today's media is filled with stories that we're not Christ for each other. I think it's safe to say we can watch the news each day and at some point exclaim "are you kidding me?" For some reason big screen T.V.'s bring out the worst on black Friday or winning a championship gives carte blanche to riot. Yet we have the power to change all of that.
That power comes from the Holy Spirit, and though daunting it's up to us.  It's easy to be Christ for one another at church, or when we pray. That's the cornerstone and sustenance that assists us in evangelizing. Reaching out takes grace.
We need to be in touch of the environment around us. It starts at home. It seems a wonderful tradition is vanishing and it's a simple one: supper. At dinner as a family we can share the day, check out how everyone is reacting, find out the mood of everyone, find out the news of our family and friends (not gossip), and see if anyone need assistance whether spiritual or physical. One great power of the family is that families rally, in good and bad times.
The next question is how best can I serve the Lord? If you ever took a business or management course in life, goals are paramount, and business plans to get that goal. If the goal is eternal life, then what is our plan to get there? It's easy to get sidetracked off the plan. The church provides a very cool roadmap and helps us along that road. So a plan is important. It takes prayer and time to get the plan into gear.
There are approximately 500,000 Catholics in the Archdiocese of Cincinnati. That's 500,000 unique talents and gifts. Imagine just for a moment if we were all on the same page. Imagine the immense spiritual power. If we follow Christ with all our heart, our mind, our very being: the rest falls in place. Each day miracles happen around us. There are amazing women and men working hard for the Lord reaching out and bringing Christ to our communities. We all have to get involved, and that's what the new evangelization is all about: Being Christ and shining that light around us.
It's wonderful and important to spend time with the Christ at church, and to truly celebrate Christ among us. Yet it's equally important to share that blessing with everyone around us. We're not here to be judge and jury; we're here to be Christ for others. So the next time we're in the presence of the Blessed Sacrament, enjoy the moment. But like the disciples on that first Ascension, after mass it's time for us to "get to work".
++++++++++++++
Greg Hartman is the Circulation Manager for The Catholic Telegraph.