Catholic New Evangelization means reaching out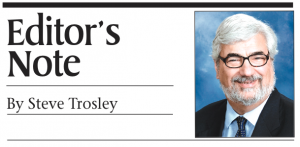 September 2013
When you're introduced to someone new in your community, what's the first thing you think of to ask?
What brought you here?
Where's home?
Have you found a nice place to live?
When my family moved to communities in the Panhandle of Florida back in the 1970s, the first question we were asked was usually, "Have you found your church home?"
Most were undeterred by the announcement that we were Catholic or "Cath-o-lic," pronounced there one syllable at a time with an emphasis on the "o." They immediately launched into the wonders and opportunities available at their church home, which were both Protestant and evangelical.
Later, we relocated to a Midwestern community that was predominantly Catholic. The first question we were asked, especially when they saw three small children in tow, was "What parish are you going to join and where will you be sending your kids to school."
Even after we had decided, people were very vocal about their parish and school, trying to sell us on its virtues – like "Father's homilies are usually short," "the sports teams are always well-coached," "they have a folk music Mass (my hair was longer)."
I have repeated in this space the associate pastor who first introduced himself and then started introducing us to everyone who came in the door.
When we moved to North Carolina, the question was again, "have you chosen your church home?" Some were put off by our Catholic faith but the Nazarenes did everything but try to drag us across the road to their church. I was on their magazine subscription list for years.
A comment like "Lord willing," prompted the question, "Do you know Him?" Evangelization followed.
In Northern Illinois, most of the evangelization was done on behalf of the Chicago Bears or Green Bay Packers, with the Packer fans showing an exceptional variety of tenacity.
The Cincinnati equivalent of asking about a church home is "Where did you go to high school?" Then comes the question about parish.
I think when Catholics today hear the phrase New Evangelization they think about EWTN or one of the Protestant TV ministers like Pat Robertson. The first time I heard it, I had an image of an old print I saw in high school of St. Bernard of Clairvaux, preaching to raise an army to recapture Jerusalem.
I also recalled the TV shows my parents watched in the 1950s — "Life is Worth Living" with Bishop Fulton J. Sheen and another one called "The Christophers" founded by Father James Keller.
Both provided powerful Gospel messages. Both were forms of evangelization taking advantage of the new medium of television.
While people like Blessed Fulton Sheen were a powerful symbol of Catholic evangelization, none so far have had the impact — in my mind — of Blessed John Paul II. Pope Francis may eclipse them all. And the whiz kids using social media to reach out with the Gospel message are pioneers in their own right.
But for many of us, the New Evangelization may be as simple as asking a new parish member where he or she attended high school or what parish activities his or her family might like to join.
+ + + + + +
In October's edition of The Catholic Telegraph, you'll be seeing some changes in formatting and content as we move towards a less "newsy" mode. Included will be recognition for the many religious of the Archdiocese marking jubilee milestones.
+++++++
Trosley is editor-in-chief of The Catholic Telegraph