Archbishop pays visit to Su Casa Hispanic Center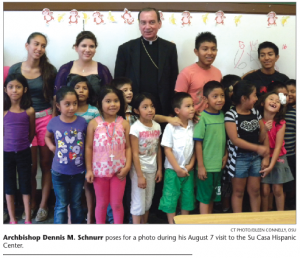 September 2013
By Eileen Connelly, OSU
The Catholic Telegraph 
The delighted smiles of small children greeted Archbishop Dennis M. Schnurr when he made his first visit to Su Casa Hispanic Center Aug. 7. Su Casa, a program of Catholic Charities of Southwestern Ohio, serves Hispanic/Latino individuals who are seeking a better life for themselves and their families. 
The children were part of the center's Vacaciones Utiles Summer Camp program. Each summer, an average of 60 children ranging in age from three to eight years old participate in the program, said Giovanna Alvarez, director of Su Casa.
It is designed to provide an opportunity for the kids to "catch-up" during the summer and prepare for the coming school year.
The purpose of the Archbishop's Schnurr's visit was to become more familiar with the center's programs and build cultural awareness, noted Alvarez. During his time at the center, Archbishop Schnurr also met with the Su Casa staff and took a tour of the facility.
"Our Catholic faith is very important to the Hispanic/Latino community, so we were very happy and excited to have the archbishop here to see what we do," Alvarez said. "We are grateful for his interest in our work."