Priest's efforts helps revitalize spiritual center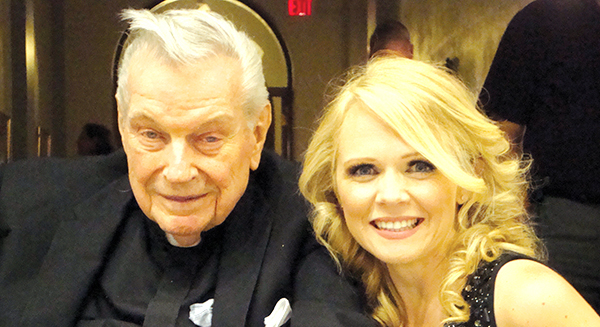 September 2013
By Patricia McGeever
For The Catholic Telegraph 
Our Lady of the Holy Spirit Center in Norwood is a place that continues to evolve.
Once a seminary, the campus is now a place for retreats, education and prayer for the public as well as clergy. Formerly Mount St. Mary's of the West Seminary, the property was bought in 1992 by Father Richard Wilhelm after sitting empty for more than a decade. It took a lot of work and money to restore and renovate it. It's still a work in progress. Father Wilhem intended to turn the campus into a retreat center for priests. But, in 1993 Father Leroy Smith joined Father Wilhelm and the focus of the facility changed. It became known as a Marian conference and retreat center.
One of the people who has had a great amount of influence over Our Lady of the Holy Spirit Center is Father Joseph Bruemmer, who on Aug. 24, celebrated the 65th anniversary of his ordination to the priesthood. Father Bruemmer, affectionately known as Father Joe, came to the Holy Spirit Center in 2000.
"He's been a fantastic spiritual director," said Tom Leibel, managing director of Our Lady of the Holy Spirit Center. "He's been a great cheerleader. And, his imprint is on every square inch of this place."
Leibel says Father Bruemmer makes it possible for him to do his job, clearing the hurdles so the center can grow.
Father Bruemmer, 90, lives in the priest's house at the Holy Spirit Center and is president of its Board of Trustees. If you ask him about his work there, he'll tell you, "I signed a lot of thank you notes" for donations that came in support of the center.
Father Bruemmer was born in Madisonville, one of six children, three boys and three girls. The family moved to Mt. Lookout when he was seven. After he was ordained, one of his assignments was at the former St. Martin de Porres Catholic School. The student body was African American.
"I loved it," says Father Bruemmer. "They're the ones who gave me the nickname 'Cool Breeze.'"
Father Bruemmer, who still says the Divine Office each morning and Mass on Friday evenings , has touched the lives of a number of Catholics throughout the diocese for 65 years.
One of them is Tacji Cameron, an internationally known singer who lives in the area. She met Father Bruemmer when she visited the Holy Spirit Center.
"He is a solid priest who loves life," said Cameron. She said he made her feel like she "wanted to do better."
As part of his 65th anniversary celebration, Cameron performed a concert in his honor. The event was also a fundraiser for the Holy Spirit Center and was held there in Father Smith Hall. The singer performed with a jazz trio singing standards as well as original material.
Those who've worked with Father Bruemmer say his leadership style has allowed the center to develop. Restoration efforts, which began before he arrived, show off the building's grandeur. The campus has many grottos and corners that are perfect for reflection and prayer.
When Father Bruemmer is asked if he has a favorite spot on the property his reply is, "Yes. My bed."