Catholic parish radio station now streaming online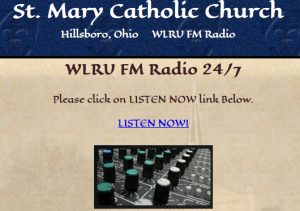 Staff Report
Back in March The Catholic Telegraph reported on WLRU, a radio station run by St. Mary Catholic Church in Hillsboro. At the time, the station could only be heard via radio dial at 106.9 FM and only at a limited range with its 100 watt tower. Now the station can be heard worldwide through online streaming at SaintMaryHillsboro.org.
Officially the St. Mary Catholic Broadcasting System, Father Mike Paraniuk, pastor of St. Mary, said WLRU has been reaching an area around Highland, Ross, Clinton, Fayette, Brown and even Adams County.
Utilizing Boston-based CatholicTV for some programming and a Gospel music affiliate for others, Father Paraniuk said the station has grown its local programming material
A local rosary is broadcast on Mondays and Sundays, as is Sunday's 10 a.m. Mass. Thursday night includes a rosary, benediction and Mass, but the programming isn't all liturgical.
Father Paraniuk hosts The Church Among Us on Monday morning from 10:30-11:30 p.m. The show is a program where he interviews local Protestant ministers to build bridges between faith communities.  Following that is a local news show called the Abernathy Report and then a music review show.
There's even a Puppy-Kitty report, a show which hopes to help pets get adopted from the Hiland County Animal Shelter and of course there's Father Paraniuk's Saturday Night Polka Party show from 7-9 p.m. on Saturdays.
"WLRU is growing up," Father Paraniuk said. "It's been like we were learning how to walk, now we're starting to run."
To learn more about WLRU, see The Catholic Telegraph's original report HERE.
Listen live to WLRU now HERE.
Posted August 31, 2015