Did you know: Saint Benignus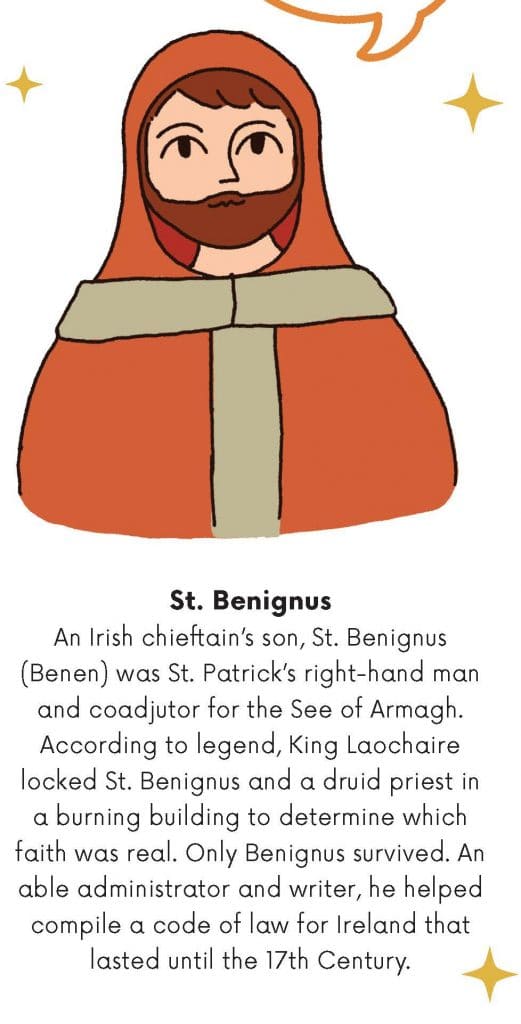 Written by Gail Finke, Illustrated by Emma Cassani
"St. Biscuit's" Neighborhood nickname for the hard-to-spell parish (pronounced "bah-NIG-nus")
"Of all the places I've worked, St. Benignus is the most like a family. Like the early Church, they love each other as a family. If there's a problem, everybody knows and everybody helps." – Father Mike Paraniuk, Pastor
Crest

The parish crest is green for Ireland and white for the pope, with a gold harp in the center because, as "St. Patrick's psalm singer," St. Benignus brought thousands of Irish souls to Christ with his voice.
The Irish parishioners wanted to name their church after St. Patrick, but because St. Patrick parish was already established in Fayetteville, they chose his successor, St. Benignus.
1854
First Mass celebrated in Greenfield at a private home.
1856
St. Benignus Parish established and land purchased for the church.
1858
Original church dedicated by Archbishop Purcell on Christmas Day.
1883
St. Joseph Cemetery established.
1904
Former Methodist church purchased in lieu of building a church.
1905
Blessed by Archbishop Moeller.
1908
Rectory built; replaced in 1925.
1958
Church renovated for parish centennial.
1984
First parish council meeting held.
1990
Church renovated.
1998
Groundbreaking for religious education center.
"Our parishes are very joyful about joining our new parish family. The joy at St. Benignus comes from the fact that they have a wonderful sense of unity, and they look forward to sharing it with someone new." – Father Mike Paraniuk, Pastor
This article appeared in the March 2022 edition of The Catholic Telegraph Magazine. For your complimentary subscription, click here.