Catholic priest charged with aggravated theft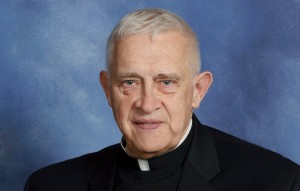 UPDATE: Father Simone plead guilty to the charge on Thursday, March 10. For the full story, click HERE.
A bill of information filed on the Montgomery County Clerk of Courts website today shows Father Earl Simone, a retired priest who served more than 20 years as pastor of St. Peter's Catholic Church in Huber Heights, has been charged with aggravated theft in the amount of $1,500,000 from the parish.
The investigation into financial irregularities at the parish was initiated by the Archdiocese of Cincinnati after receiving an ethics complaint in February 2015.
The document reads that Father Simone did, "with purpose to deprive the owner, to-wit: St. Peter's Catholic Church of property or services, did knowingly and beyond the scope of the express or implied consent of the owner or person authorized to give consent, obtain or exert control over said owner's property or services, to-wit: U.S. Currency, cash, or its equivalent, having a value of One Million Five Hundred Thousand Dollars ($1,500,000) or more."
The Dayton Daily News reported Wednesday afternoon that Father Simone was expected to enter a plea in court on Thursday at 2 p.m.
In a March 2015 press release the Archdiocese of Cincinnati announced it had reported allegations of financial irregularities at the parish to the Huber Heights Police and Montgomery County Prosecutor's Office.
"Officials of the archdiocese received an ethics complaint on Feb. 11 (2015)," the release stated. "An initial investigation by auditors on the archdiocesan staff indicated there was substance to the report. The archdiocese contacted an outside auditing firm with expertise in forensic accounting and reported the allegations to the secular law enforcement authorities."
Father Simone retired in April of last year.
The March 2015 release also noted the "archdiocese has taken numerous steps in recent years to tighten financial controls at its 212 parishes, including the hiring of two full-time parish auditors, adding a confidential fraud hotline to report irregularities, installing a new accounting system, and providing parishes with tools to help them secure collections."
The bill of information outlining the charge can be viewed here here.
This story will be updated as more information becomes available.