Celebration marks 40 years for St. Columban School principal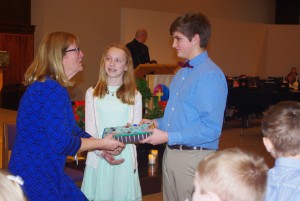 By: Chuck Gibson, Contributor
Catholics throughout the nation celebrated Catholic Schools Week January 29-February 4. St. Columban School in Loveland, Ohio began the celebration with an Open House with classroom tours, displays, and a karaoke Café featuring students singing.
"It was great," said Rev. Larry Tensi, pastor of St. Columban church. "There was a lot going on. The kids sang karaoke. There is a lot of talent here"
School Principal Jo Rhoten had no idea the surprise the week held in store for her. Students from grades K-8 along with faculty, staff and parishioners celebrated The Presentation of the Lord at mass on Thursday, February 2nd. At the close of mass several teachers were recognized for 10, 20 and 30 years of Catholic education. Rhoten greeted each one with a certificate honoring their service. Rev. Tensi offered the blessing as mass was ended and the recessional song was sung as he processed out of the church.
Only students, faculty and staff remained awaiting dismissal to return to their respective classrooms and offices. Instead assistant principal Joe Crachiolo announced there was one more teacher to be recognized, not for 20 or 30 years, but for 40 years of service. Rhoten had no idea as she looked around to see who it might be. Crachiolo asked the kids if they knew who it was. A resounding "Yes, Mrs. Rhoten!" was the joyous reply. Shock and surprise filled Rhoten's face followed quickly by a smile.
The smile shone bright on her face as she listened to Crachiolo acknowledger her 40 years as a Catholic school teacher, assistant principal, and principal with 37 of those years at St. Columban School. Rhoten's smile only grew brighter when she learned her family was there; including her father, husband, sister, children and grandchildren. She practically sprinted into their arms. It was an emotional scene with hugs all around.
"Thank you, thank you, thank you," she said as she began introducing each family member by relationship. There were more hugs when they joined her at the front of the church. Rhoten's son Brandon spoke for the family. A lot of hands went up when he asked the students how many thought it would be weird to have their mom for a teacher. Then Brandon very eloquently explained why it was NOT weird having his mom as a teacher when he was a kid. The students loved it when he said she had a superpower – the ability to always be there right when you need her most – whether you're a family member, or a student in need. His poignant testimony to the loving, caring teacher he called mom left her near tears, but still smiling with pride.
"I was so happy and touched that St. Columban marked the event in such a grand way, including my family with our community," Rhoten said.
Representatives of from the church staff, and school staff presented Rhoten with 40 roses for her 40 years. Reverend Tensi stepped to the podium and offered a few words to express the feelings of the St. Columban community.
"There is no one who loves St. Columban more than she has or will in our lifetime," he said. "She loves St. Columban. For her love for our children, for dedication to teachers for being a great shepherd of our school, we thank her."
Crachiolo cited caring, ethics, and family as the three main tenets of her dedication to Catholic education for 40 years. Students then came up and shared a special handmade thank you sign with the principal they clearly love. In her usual manner, Rhoten shined the light on others when summing up her 40 years in Catholic schools.
"Working in Catholic education for 40 years has been a blessing," she said. "Thank you for all of the gifts and especially your prayers. I am so thankful for all of you."
More on St. Columban School at: www.saintcolumbanschool.org