Chaminade Julienne announces CJ STEMM Center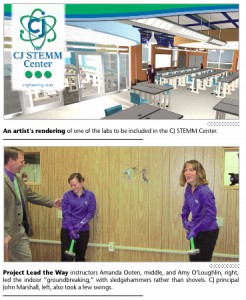 By John Stegeman
DAYTON — While political pundits often lament the demise of education, students at Catholic schools in the archdiocese are still privy to an education that is not only excellent, but ever-improving.
Toward that end, Chaminade Julienne High School announced plans Jan. 9 for a $4 million dollar renovation to the school's second floor to create the CJ STEMM Center. The center is slated to open in August of 2013.
"We are renovating our building to better accommodate the type of learning that goes on today, much as our predecessors did from 1950 to 1965 when they originally built the building that we have used and faithfully taken care of since then," Chaminade Julienne President Dan Meixner said. "At Catholic schools, and at Chaminade Julienne specifically, we have a mission. Our job is to help young people discover how their unique gifts and talents allow them to serve God's people and to develop through that, their path to holiness."
STEMM is an acronym for science, technology, engineering, math and medicine education. The center aims to enhance Chaminade Julienne's "Project Lead the Way" curriculum for engineering and biomedical studies, as well as providing more opportunity for students involved in the STEMM program courses and activities.
"Project Lead the Way" (PLTW) is a national provider of STEMM education curricular programs used in more than 4,000 middle and high schools. Chaminade Julienne, which is jointly owned by the Marianists and the Sisters of Notre Dame de Namur, is one of only two Catholic high schools nationwide certified in both the bio-medical sciences and pre-engineering programs of PLTW. The CJ STEMM "Project Lead the Way" Biomedical Sciences program is funded in part by Good Samaritan Hospital.
The CJ STEMM Center will be located on the second floor of the main building of the high school, replacing existing classrooms.
The new renovations, paid for by the investment of 30 individuals, will have classrooms with dedicated purposes, but they will be customizable as needed to suit the curriculum.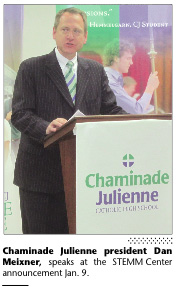 "The flexible hybrid lab-classroom arrangement will allow for easier transition between different teaching formats during a single session," STEEM Coordinator Meg Draeger said.  "It will allow a lot more teamwork and group work among students where the teacher becomes more a facilitator of learning and the students do more independent project-based learning."
The STEMM Center is expected to benefit more than just the 100 students in the Project Lead the Way program. Draeger said that a monthly STEMM speaker series is open to all students. The involved science courses are elective, and also open to all students.
"We offer four courses, and they're elective courses so any student grades nine through 12 are free to take them," Draeger said. "They don't have to take all four courses in a sequence to benefit, they can take just one and it gives them a little flavor of what the career fields of engineering or biomedical and health care fields are like before they go to college."
Chaminade Julienne serves 635 high school students but a key part of the STEMM Center will be outreach to middle schools, allowing a younger generation to be exposed to a STEMM curriculum before reaching high school.
"It will allow us to expand our offerings to students in elementary and middle schools," Meixner said. "We've been doing this for a number of years, but we've been limited because of the facilities we've had. We currently offer school year and after school and summer programs for those students. The CJ STEMM Center will allow us to expand that functionality so that this investment will serve not only our students, but young people throughout the community."
Along with the renovations to the classrooms, the center will also be fully air-conditioned and will have upgrades to its wireless network.
The event announcing the CJ STEMM Center was attended by various media organizations, school staff, trustees and students, who spoke with the attendees about their experiences in the program.
Sophomore Margot Duffy, who plans to pursue a career as an OB-GYN, looks forward to taking advantage of the new facilities.
"I'm very excited," Duffy said. "I'm only a sophomore so I'm going to get to experience this whole thing for two more years."
Duffy's favorite subject used to be math, but her participation in the courses that will benefit from the CJ STEMM Center have changed her perspective.
"I'm taking human body systems and next year it will be a different class," she said. "This is actually my favorite class. We get to do a lot of activities and it's a lot of hands on stuff. It's pretty much a class where we teach ourselves. Our teacher gives us the activity and gives us the directions but it's a self-taught class. We get to work with each other and that helps too. We get new partners every time. It's a great class."
The announcement event featured an indoor groundbreaking, with staff tearing down part of a wall with sledgehammers, as well as large displays of artist renderings of what the CJ STEMM Center will look like when completed. A floor plan shows three biology labs, a physics lab, chemistry lab, STEMM classroom, fabrication lab and a large space for collaboration, research and presentation.
A press release provided to media members at the event claimed the center would give students in the greater Dayton area "access to a premier science, technology, engineering, math and medicine education delivered within a holistic, Catholic educational experience.
"Pope John Paul II spoke about this in the year 2000 when he said that faith and reason are like two wings on which the human spirit rises to the contemplation of truth, and God has placed in the human heart a desire to know the truth," Meixner said. "Through Catholic education at Chaminade Julienne, we're providing our students, through our people, programs and facilities, access to the truth so that they can discover how to serve God's people."
For more information about Chaminade Julienne visit www.cjeagles.org. For more on "Project Lead the Way," visit www.pltw.org.