Everyday Evangelist: Roger Grein
Local Catholic philanthropist shares his faith journey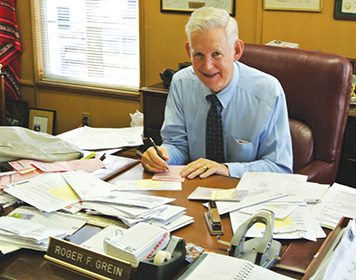 By Patricia McGeever 
Self-made millionaire and philanthropist Roger Grein is a shining example of the power of love, determination, and faith. His life is also a lesson in how a cross can become a blessing. Over the years, Grein consistently and quietly used his money to support charities, colleges and high schools. But in 2008, with 90 percent of his investments being bank stocks, Grein lost just about everything.
"What was worth $7 million one month, was, in a three to sixth month period, worth $65,000," he said from his Reading office. "You can imagine when I lost this how I felt. It was hell."
It was his Catholic faith that helped him accept the situation, find peace and eventually lead him to create Magnified Giving, a nonprofit that teaches students about philanthropy.
"Life is ups and downs and if you don't have faith, you couldn't exist. You couldn't cope with the challenges of your life," he said.
Grein has faced many challenges — physical, emotional as well as financial. He was adopted by Frank and Thelma Grein when he was six months old. Decades later he would learn about his biological parents and meet his birth father and other relatives as well as the woman he says saved him from abortion.
As he grew, Thelma noticed her son wasn't progressing like the other children his age and some people suggested she take him back to the orphanage. Instead, she nurtured him. Doctors said the boy suffered from a spastic condition caused by a birth injury and may never walk or talk. But Thelma's determination and patience taught him to do both. It was only within the last few years that his condition was diagnosed as cerebral palsy.
The Greins attended Mass at St. James of the Valley Parish in Wyoming, where Roger is still a parishioner. A parish mission he attended with his father when he was 14 made a lasting impression on him. He began to say a rosary every day and when he became an adult he began to attend daily Mass. He also makes a yearly retreat.
Grein learned about the value of hard work and persistence early. As a boy he'd return bottles for deposits. One day he had enough money to buy a lawn mower and he started a grass cutting business. He mowed yards, raked leaves and shoveled snow for neighbors. Grein graduated from Lockland High School then earned his MBA from the University of Cincinnati. After graduating from college he got a "real" a job at a bank. When it came time for his yearly review they called him in and fired him. They said he didn't fit it. Grein was crushed and wasn't sure what to do next. He even considered the priesthood but didn't think he'd pass Latin.
So, armed with his MBA and his mower, Grein went back to cutting grass. This time though, he gave his customers a business card and asked if he could do their taxes. That first year he did 35 returns. Thelma helped him type them. Within a couple of years he was doing hundreds of returns, opened his own office and hired a staff. He was named tax commissioner in three municipalities. While he worked he was secretly giving away more than fifty percent of what he was earning.
"I did crazy things. If the shoe store was going out of business I would go the last day and buy all the shoes and give them to the poor." When he heard a toy store was going out of business, he said, "I went to the toy shop and bought every damn toy in that store and gave them to the poor. Nobody knew about this. Nobody. I wasn't doing this to make me a hero."
Which made losing his wealth all the more traumatic for Grein. He grieved. "When he lost his money he wasn't sad for himself," said Todd Forman, program director of Magnified Giving. "He was sorry for all the different organizations he promised money."
For years, Grein had been supporting causes on his own. Getting students involved in philanthropy came after a conversation in 2001 with former Northern Kentucky University President Jim Votruba. He told Grein about a partnership his school had with the Mayerson Foundation where students research nonprofits and award funds. Grein approached Xavier University with the idea to do something similar. After he lost his ability to fund the program he feared it wouldn't continue. He prayed and asked for guidance. He visited each college president to apologize in person and when one school president told him they'd carry on without his money, Grein was encouraged. He'd been working on the college program with Campus Compact, an organization that promotes public and community service of college students when he got some good news. Campus Compact was awarded a $3 million dollar federal grant to expand the philanthropy program. It would grow from 16 to 34 campuses. His prayers had been answered.
That inspired Grein to get funding for the high school component of the program. He formed Magnified Giving as a nonprofit and sent out 3,000 appeal letters. "All my life I was a giver and now I'm a beggar." To paraphrase the proverb, he'd been giving them fish instead of teaching them to fish. "I was trying to figure out how to do both. I had to lose everything to figure it out," he said.
Roger Grein's life story has many chapters. There's a book in the works and possibly a movie. And despite the shuffle in his walk or the slight affect to his speech, he tells his story to groups around the country. The boy who couldn't make any sports teams went on to become a successful women's softball coach for 40 years, traveling the country with his team winning championships. The football field at Lockland High School is named after him.
Sister of Notre Dame de Namur Ruth Bedinghaus was one of his earlier softball players. "The common practice was to yell at the athletes. Roger was not like that at all," she said. Grein instead adopted a positive approach of encouraging players.
"I remembered how that made me feel," recalled Sister Ruth. "I adopted that same kind of approach," she said when she began coaching girls softball. She had no idea of the extent of Grein's generosity until she chaperoned some Mount Notre Dame students on a trip to an orphanage in Mexico and realized Grein was funding the building of the orphanage. "What that did was open my eyes to what a giving person he is."
Grein recently received both national and local honors. He was awarded the National Father George Mader Award by the Catholic Volunteer Network. The honor is given to those who serve others both at home and abroad. Grein was chosen from 19,000 other volunteers. The Association of Fundraising Professionals Greater Cincinnati Chapter named him 2012 Philanthropist of the Year.
"He has a heart of gold," said Forman. He also has an iron will that together with his unwavering faith has sustained him.
Now, instead of Grein writing checks for charity as he did for so many years, more than 2.000 high school students are learning about philanthropy, researching nonprofits, learning leadership skills and about investing in the community through the Magnified Giving program.
"Now it can go on without me. That's my dream," said Grein. "Four to five years from now instead of being the president and CEO, I can be the director emeritus and the program can bloom and go throughout the country without Roger and live forever."
He added, "Through my faith in God, I was able to do that."