Change is part of life, even if not everyone likes it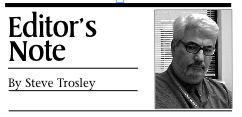 Rather than detail the changes and the timing of the changes coming this summer for our The Catholic Telegraph readers, we're going to wait for you to tell us what you see.
When I became editor of one small city newspaper, I decided to streamline the TV guide. The TV guide was always a nightmare for editors and publishers. There was never enough ad revenue in it to offset the expense of buying the listings, composing the product and printing it. It was almost always a loser.
Journalism is an enterprise, not a crusade. Without the enterprise, there can be no crusade. As with any well-run business, when you have a losing proposition, you do look for ways to cut your losses.
Although the TV book was a reader service, a good manager has to think twice about providing something that supports your competition for ad sales — in this case local TV stations — and in the town of my story there were few factories. A major group using TV books is shift workers who in those days could use it to set their VCRs to record shows that aired during their shifts.
To trim the size of the book, we eliminated two unique categories, sports events and movies. Since those events and movies would appear in the daily listings, we felt a separate listing was redundant. That saved us pages, paper which over a 32,000 press run was a nice sum of money.
Our readers did not agree. In addition, more than a dozen suddenly noticed that we had a soap opera guide in the book. Many of our readers assumed we had replaced sports and TV movies with the soap opera guide when in fact, we had run that feature for as many years as we had run a TV book. We ended up compromising on those sports and movie listings: We ran the weekend and evening listings and cutout the daytime schedules. That seemed to make most people happy.
The most unusual reaction we ever had to a change was when we lost the "Steve Canyon" comic strip. Steve Canyon was a pilot whose adventures were many and tied to the dramatic aviation developments of the times. The artist/author, Milton Caniff passed away and the syndicate kept the strip going for about a year before cancelling it.
Since the newspaper served a town with an air force base, we did a full-page feature on the history of the strip and the artist. We also interviewed people who followed the strip and explained when and why it was being discontinued. We even ran a contest to help select a replacement.
A month later when the last strip ran — accompanied by a page one story about it being the last strip — we were inundated with complaints. People accused us of being unpatriotic and insulting to the Air Force presence in our town. Many told us Steve Canyon was the only reason they took the paper — that and the crossword puzzle. Oh, and the obituaries.
But the gentleman who took the cake told me that he had been reading Steve Canyon since the Great Depression, which would have been difficult since the strip was introduced in 1947.
I explained what had happened. He allowed that it wasn't the newspaper's fault that Caniff had died and relented on his decision to cancel his subscription, although he said he was generally dissatisfied since the new corporate ownership had imported that new editor (me) and erased the last vestiges of the family ownership. When I told him about the contest, he entered.
The people who complained about changes were not stupid. The newspaper was so much a part of their daily lives that they took it all for granted, which is what a newspaper was designed to be in those days of not so long ago.
You're The Catholic Telegraph is going to be changing soon and will continue to change, we believe for the better. We will welcome your compliments and your criticisms. And should you call angry, my plan will be for us to part friends.
Unfortunately, there will be no contest associated with these changes, at least not this time.
+++++++
Trosley is editor-in-chief of The Catholic Telegraph