Father Farris concludes tenure as Roger Bacon president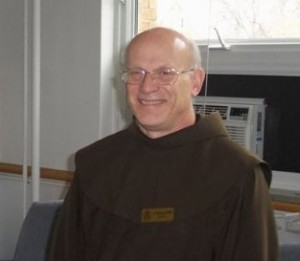 By Eileen Connelly, OSU
The Catholic Telegraph
Always open to God's call and ready to embrace the blessings that lie ahead, Franciscan Father Bill Farris will bid a fond farewell to Roger Bacon High School as he concludes 12 years as its first president at the end of the school year. Father Farris will become pastor of Transfiguration Parish in Southfield, Mich., in early July.
Raised in South Bend, Ind., Father Farris first encountered the Franciscans in grade school, the start of a relationship that would grow and flourish throughout his life. Inspired by the Franciscans respect for the uniqueness of each individual, Father Farris left home at 14 to begin his high school studies at St. Francis Seminary in Cincinnati. He went on to earn a bachelor's degree from Duns Scotus College in Southfield. He was ordained in 1977 and continued his education receiving a master's in English literature from the University of Detroit.
From 1979 to 1989, Father Farris served as formation director of the Cincinnati-based St. John the Baptist Province, where he was responsible for instilling Franciscan values in the hearts and minds of men aspiring to become friars. He moved into parish work in 1990, first as an assistant pastor at Corpus Christi Parish in Cincinnati, then as pastor of St Louis Parish in Batesville from 1993 until he was named president of Roger Bacon.
Father Farris was asked to serve as president of the Franciscan-sponsored high school when the friars decided to make a change in Roger Bacon's administration to the president/principal model in early 2001. He took his new role to prayer, Father Farris said, and what came forth was  "the importance of supporting our Franciscan ministries."
"For me it was a new experience and for the school it was a new position," he noted, so Father Farris researched the president/principal model, attended a workshop through Catholic School Management, a national consulting firm, and engaged the company's services to asses Roger Bacon and measure the school against national standards.
His focus, said Father Farris, became to strengthen Roger Bacon's board of trustees and Development Office, create a long-range plan and involve more of the school's public in supporting it. "It's a never ending job, and one that's distinct from that of the principal, with an emphasis on long-range planning and developing the school's resources,' he explained. "If those go off the plate of the principal. he can focus on programs and student life, and that's a good thing."
In addition to long-range planning, with an emphasis on the school's sustainability, Father Farris also devoted his efforts to enhancing Roger Bacon's mission, specifically accelerating the development of Franciscan awareness among faculty and students, including a two-week orientation for freshman, a four-year, school wide program on Franciscan values and the opportunity for faculty and staff members to be nominated by a friar to participate in a province-sponsored pilgrimage to Assisi for a first hand glimpse into the history and spirit of St. Francis.
Father Farris was also actively engaged in the work of development and fundraising during his tenure, leading Roger Bacon's capital campaign to reach half of its goal, expanding the school's library and improving the football field, increasing the number of scholarships available, managing the endowment fund and working with major donors.
"Words cannot express how much Father Bill has done for Roger Bacon," said Anne McKinney, president of Roger Bacon's board of trustees. "We will miss his leadership, his positive outlook and his caring attitude."
"It's been rewarding getting to know the entirety of the Bacon family, especially the students and alums, and being part of their experience here," Father Farris said. "What's unique about Roger Bacon is that it reaches Cincinnati at its crossroads and overlaps so many populations. I came to this ministry somewhat late in life, so it's been a real learning experience for me. I do feel a sense of closure coming on now and am definitely planning to stay in touch."
The high school hopes to name Father Farris' successor by June 1. As he prepares to move on to his new ministry, Father Farris reflected on his experience saying, "My time here has been a great blessing to me. I've learned a lot about leadership and working with a variety of people. I've seen so many hopeful signs among our students at Roger Bacon. The school has a bright future in Cincinnati.