Chatfield College receives $1 million gift from renowned surgeon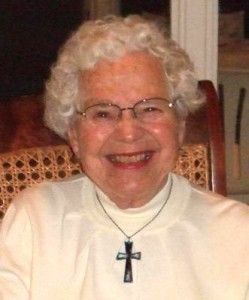 Chatfield College in Cincinnati and St. Martin, Ohio has received a bequeathed gift for $1 million from Dr. Mary Lois Jung — a surgeon, former Catholic nun and dedicated philanthropist.
Jung's gift is the largest testamentary gift received in Chatfield's history and will create its largest endowed scholarship – one of 25 presently funded scholarships available to Chatfield students.
"We are exceedingly grateful for Dr. Jung's amazing generosity," said Kip Heekin, chair of the Chatfield College Board of Trustees. "This is a transformational gift, one that will help students attend Chatfield for generations to come."
Jung's life covered a broad span of time, geography and roles. The daughter of George Jung, inventor of the arch brace and knee pad and founder of the Jung Arch Brace Company, she learned to love science through her father's experiments and demonstrations.
After high school, she attended Trinity College in Washington D.C., before transferring to the University of Cincinnati where she earned a degree in chemistry. She accepted a fellowship for cancer research at the University of Florida, earning a master's in chemistry and starting on a doctorate before realizing that it was not the path for her.
Her sense of adventure and interest in foreign cultures led her to join the Medical Mission Sisters, an order that focused on providing health care as ministry without seeking religious converts. Because the missions needed surgeons, she was asked to become a physician and attended medical school at the Women's Medical College in Philadelphia. After earning an M.D., she served for three decades as a Medical Mission surgeon in Pakistan, Micronesia, St. Lucia and the Papua New Guinea Highlands, before retiring in the late 1980's.
As a philanthropist, Jung's most cherished causes were education and the environment. She established a scholarship fund at her medical school alma mater and endowed a science chair in honor of her father at Chatfield College. The Nature Conservancy and the Save the Redwoods League were recipients of her generosity as well.