Cincinnati Catholic Schools Week Mass cancelled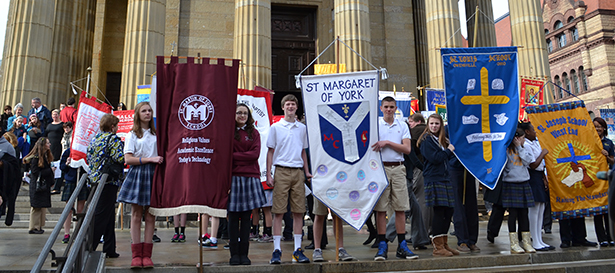 Staff Report
Updated: Jan. 27, 2014 at 4 p.m.
Due to the extreme cold temperatures expected, the Cincinnati Catholic Schools Week Mass scheduled for Tuesday, Jan. 28, has been cancelled.
Another Catholic Schools Week Mass, scheduled for the Dayton area, had not been cancelled as of Monday evening.
Catholic school students, their teachers, and their communities throughout the 19-county Archdiocese of Cincinnati are celebrating the 40th annual Catholic Schools Week through February 1 under the theme "Catholic Schools: Communities of Faith, Knowledge and Service."
The 113 Catholic elementary and high schools in the Archdiocese will mark the week with special programs, such as open houses for parents and grandparents, out-of-uniform days, service projects, Masses, talent shows, special decorations, student-faculty games and entertainment.
The Roman Catholic Archdiocese of Cincinnati is the 38th largest Catholic diocese in the country, with almost 500,000 Catholics, and has the sixth largest Catholic school system in terms of enrollment – 42,448 students for the 2013-2014 school year.