Cincinnati Mayor declares Feb. 5 Tom Otten Day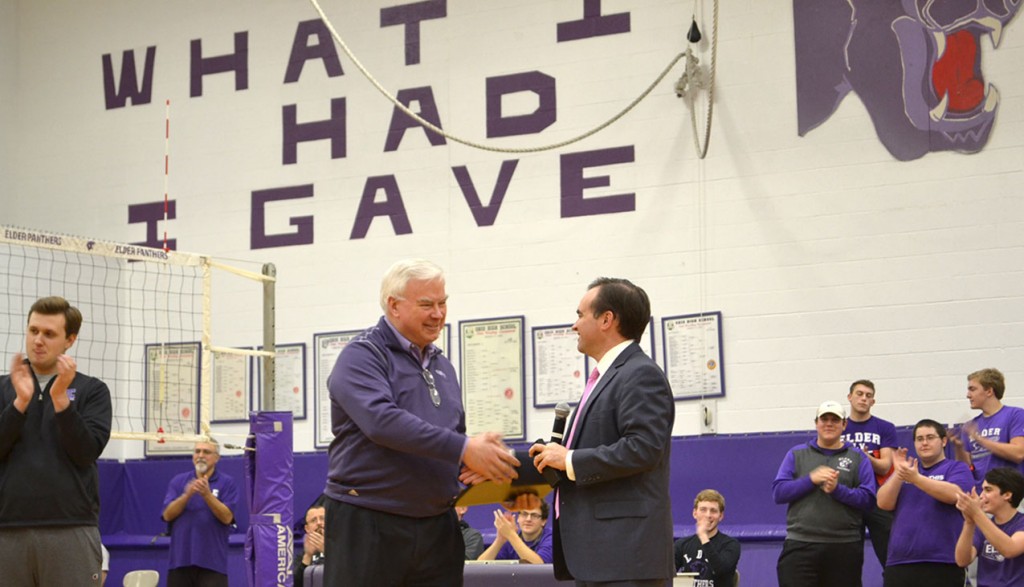 Though Feb. 5, 2016 passed in much of the Archdiocese of Cincinnati as simply the final day of Catholic Schools Week, at Elder High School and throughout the City of Cincinnati, it was officially Tom Otten Day.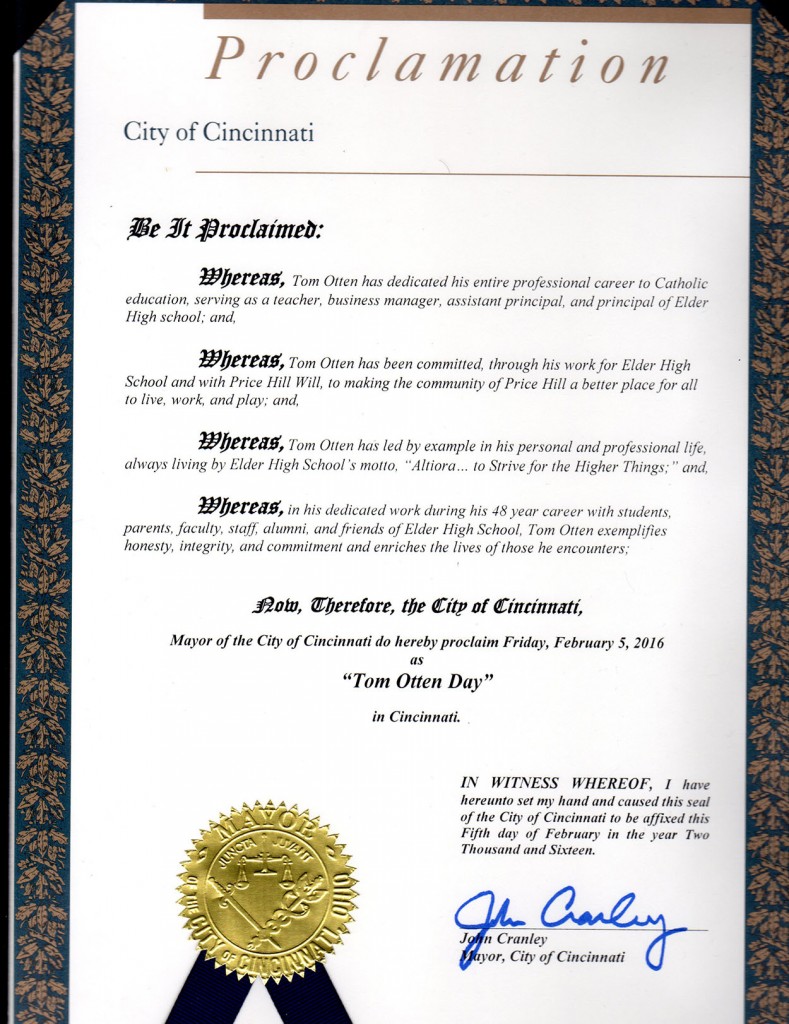 Otten, the 19-year principal of Elder High School, is retiring at the end of the school year after working more than 50 years at the school. To honor him for his service and commitment, Cincinnati Mayor John Cranley was on hand Feb. 5 at Elder to present Otten with a proclamation declaring the day in his honor and also with a key to the city.
Mayor Cranley read the proclamation before handing over the key, drawing a standing ovation from the student body, which had been gathered to watch a faculty vs. students volleyball game.
"Tom has been a personal friend of mine and has made a huge difference for the city and Price Hill in particular," Cranley said. "We want to make sure that he goes into retirement knowing he's always welcome back here at Elder and in the City of Cincinnati which is why I'm presenting him with a key to the City of Cincinnati."
Otten was also honored by students who presented him with a plaque noting his 19-year tenure as principal.
The proclaiming of Tom Otten Day and reception of a key to the city caught Otten off guard as Elder staff had worked to plan the event without his knowledge.
Click here for more Catholic Schools Week Stories
"I'm almost speechless with this whole thing," Otten said. "Honest to God it came as a complete surprise."
Otten started his Elder employment career as a student, doing data entry in the office. During college he worked there a janitor. Eventually he taught at the school for three years, served as assistant principal for 26 years and has spent the last 19 as principal.
"It's really neat but really I've just been honored to have the job that I've had at whatever point in my life it was," Otten said. "Without the support of my family, without all the hard work of the alumni, the teachers, this wouldn't be the school that it is. Everyone is doing their job here and that's what makes it a great place. I'm privileged to be who I am to sit in the chair I get to sit in, but really, everybody else does the work."