Cincinnati priest in Rome reacts to papal resignation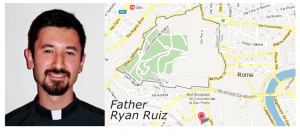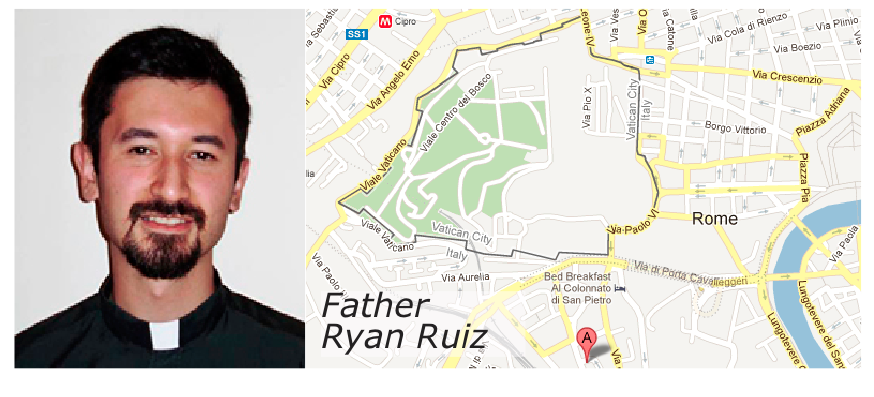 By John Stegeman
The Catholic Telegraph
ROME, Italy — Like other major world events, many will remember exactly where they were when they heard that Pope Benedict XVI was going to resign. Most in the Archdiocese of Cincinnati were likely checking the morning news online, or on television but Father Ryan Ruiz first heard the news when he came downstairs from his residence at Casa Santa Maria — right in the middle of historic Rome, Italy.
Ruiz, an Archdiocese of Cincinnati priest in Rome pursuing graduate studies in Liturgical Theology, had the same reaction as most to the news of the first papal resignation in 598 years.
"It was just a lot of shock and surprise, just as I think the entire Church and the entire world experienced," Father Ruiz said. "I found out around 1 p.m. on Monday, I believe the Holy Father made his announcement to the Cardinals around 10:30 or 11 a.m. Rome time. I went down for lunch and I was shocked to hear my brother priests who I live with here speaking of the pope's resignation. It took me really by surprise. I was shocked but very appreciative of all the Holy Father has done in his many years of ministry as our pope."
Ruiz wasn't able to make the Ash Wednesday mass Pope Benedict XVI offered just days after the announcement he would resign, but he hoped to attend one of the upcoming Sunday Angelus addresses, as well as the pope's final general audience on Feb. 27.
Casa Santa Maria is about a 25 minute walk from the Vatican, and by virtue of its location in the middle of Rome, Ruiz was able to experience the reactions of everyone from tourists to Italian leaders.
"I was able to see some of the reactions from some of the Italian politicians and other people through reading the Italian newspapers and have to say I was edified to see the reaction of the people here in Rome," he said. "As I already mentioned there was shock and surprise but great admiration and great respect for the Holy Father for what was certainly a difficult decision and a decision he made with great prayer and great love for the Church.
"He'll certainly be missed but we know he'll still be present and praying for us and the new pope will carry on the mission," Father Ruiz added.
On a personal note, Ruiz said the pope's resignation did cause him to feel a sense of sadness, but that it was coupled with hope.
"Back in 2005 when Pope John Paul II died and Pope Benedict was elected there was a feeling I felt of almost being orphaned… That's kind of how I feel right now with Pope Benedict announcing his retirement and resignation," Father Ruiz said. "We call our leader pope which in Italian is even better, 'Papa', that very affectionate phrase. Also Holy Father and there's all these very paternal titles the pope has because he really is the father of our Catholic community. Whenever our Holy Father dies or in this case resigns there's a sense of being orphaned in some ways.
"But there's also that great hope and faith the Lord gives us in the gospels that he gives us his spirit," Father Ruiz said. "His spirit will never leave or depart from his Church. In these situations where there is change and transition, that's a great consolation we have from our faith and knowing the great love our God has for each and every one of us. There's a little sense of personal sadness at seeing this great figure shrink into the background, but also great consolation from our faith, from the message of the gospel."
Father Ruiz is not the only resident from the Archdiocese of Cincinnati in Rome. College seminarians Michael Mazzei and Andrew Hess are also there for the semester, meaning all three will get to experience being in Rome during a conclave and election of a new pope.
"It is kind of surreal being here at this time," Father Ruiz said. "It will be interesting to see how it all transpires because this is uncharted territory for the Church at least for 600 years, where the pope we're saying goodbye to is still alive … It is quite an honor and I'm very excited to be present in Rome for this historic occasion."
More on Pope Benedict XVI's resignation:
Pope Benedict thanks faithful, asks them to pray for next pope [Video]
Commentary: So God Made a Pope
Commentary: The Catholic Moment — The Legacy of Pope Benedict XVI
Citing health, Pope to resign
Cincinnati Archbishop Dennis M. Schnurr releases statement on papal resignation
CNS Video: See the pope announce his resignation
Women religious respond to news of pope's resignation