Elder holds mass honoring Vietnam KIA/MIA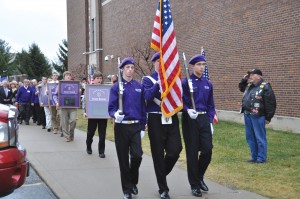 By John Stegeman
The Catholic Telegraph 
Elder High School lost more men in the Vietnam War than any other high school in the state. While those men are gone, their memory remains, and Jan. 30, the school hosted a special Mass to honor the 11, and a "12th man" representing those who later died from the chemical effects of Agent Orange. The Mass included a dedication of 12 shadowboxes that were then installed at the school as a permanent memorial.
The class of 1966 was the catalyst for the Mass and dedication. The 11 deceased veterans are honored yearly with a Veteran's Day gathering and Mass that draws several supporters, but more than 150 visitors from seven states were in attendance at the special mass Jan. 30.
In May of 2012 Elder Director of Development Tom Reiring first heard about the class of '66 wishing to create the shadowboxes for the four members of their class to die in Vietnam, and the idea just grew.
"This is a class that had already created a permanently endowed scholarship — the Hank Mueller '66/Veterans Scholarship at Elder to honor a classmate who lost his sight while serving in Vietnam," Reiring said. "These classmates have had several fundraisers over the last couple years and have raised close to $40,000 for Hank's fund. They are very passionate guys who grew up during an extremely trying time in our history."
Mass was concelebrated in Elder's Memorial Fieldhouse by Fathers Chris Lack, Jim Meade '66 and Ralph Westerhoff '54. Near the end of the events, Dr. Edward Otten, a captain in the Navy Reserves and an Elder grad, read a roll call. He stated the name and rank of each of the deceased. Responders, members of the Elder Honor Guard, replied to each name, "Not present, but accounted for."
The Elder students who gave their lives in Vietnam are: David R. Caruso '65, Paul P. Davis '66,  Michael Faulkner '66, Michael F. Huwel '66, Thomas P. Kindt '58, Robert J. Oates '63, William F. Reiter '66, Albert F. Sayer '55, Donald L. Schnee '64, Leonard F. Vogt '43 and Michael R. Witt '67.