Cincinnati Reds "Strike out Hunger" with St. Vincent De Paul
Fans who donate to annual food drive on June 22 and 23 receive a free Reds ticket
St. Vincent de Paul – Cincinnati, the Cincinnati Reds, WLWT, and 700WLW are partnering to "Strike Out Hunger" across Greater Cincinnati by hosting a food donation drive when the Reds play the Chicago Cubs on Friday, June 22 (7:10 p.m.) and Saturday, June 23 (4:10 p.m.) at Great American Ball Park.
Fans who donate a minimum of three non-perishable food items receive a free ticket to an upcoming Reds game, limit one ticket per person. Donation hours are as follows:
• Friday – 5:00-7:30 p.m.
• Saturday – 1:30-4:30 p.m.
Donation barrels are located outside the ballpark's main entrance on Crosley Terrace.
"Summer is a critical time for struggling families," says Mike Dunn, Executive Director, St. Vincent de Paul – Cincinnati. "When schools are out, too many families must choose between buying groceries and paying their rent. This drive helps keep our food pantries stocked so families don't have to make that choice."
Thanks to the generosity of Reds fans at the 2017 "Strike Out Hunger" Food Drive, St. Vincent de Paul collected 9,000 pounds of food, which provided 7,200 meals to struggling families in Cincinnati. St. Vincent de Paul operates food pantries throughout Cincinnati, including the Edyth and Carl Lindner Choice Food Pantry in the West End and 11 neighborhood-based pantries.
To learn more about the "Strike Out Hunger" Food Drive for St. Vincent de Paul, contact the Cincinnati Reds at 513-765-7000.
For more information about donating, visit SVDPcincinnati.org or call 513-562-8841, ext. 011.
Be sure to share your #StrikeOutHunger photos and fun with us at: Facebook.com/SVDPcincinnati and Twitter.com/SVDPcincinnati.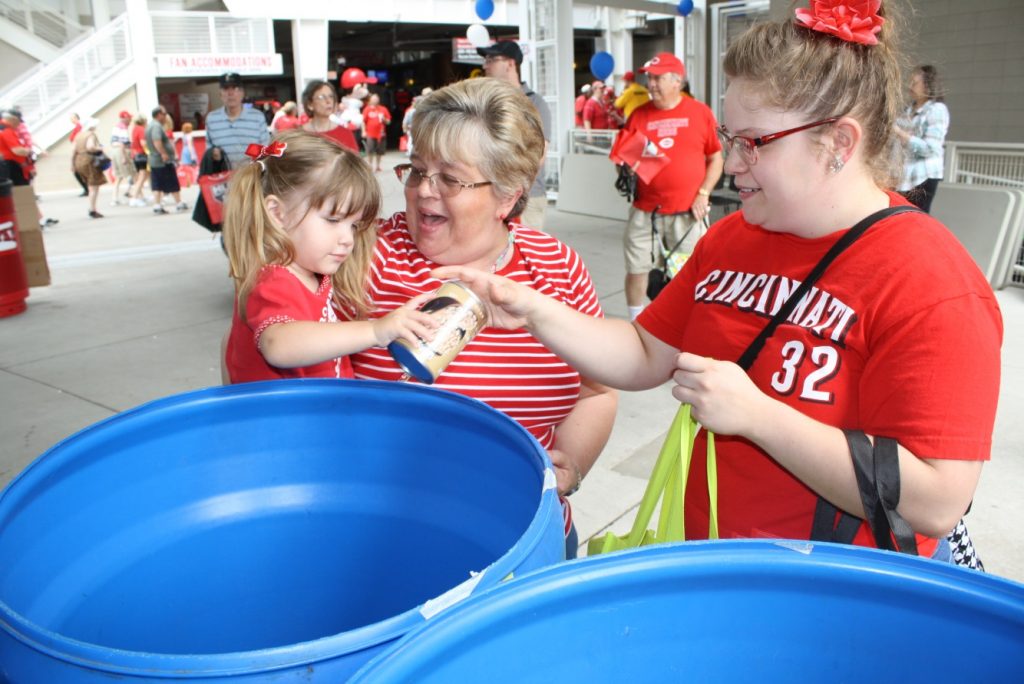 ---
About St. Vincent de Paul – Cincinnati
The Society of St. Vincent de Paul has been providing innovative, practical emergency assistance to Greater Cincinnati and Hamilton County residents in need for 149 years. The organization works personally with those in need, regardless of race or creed, to bridge the spiritual, emotional and material gaps in their lives through home visits provided by neighborhood-based volunteer groups, and groundbreaking initiatives like the Charitable Pharmacy as well as a network of nine food pantries and seven thrift stores and donation centers across Cincinnati. The Society of St. Vincent de Paul continues to be a leading community service organization and was recognized with a 2017 Henry Schein Cares Medal. For more information, visit SVDPcincinnati.org.