Couple's path brings them from secular clubs, to church music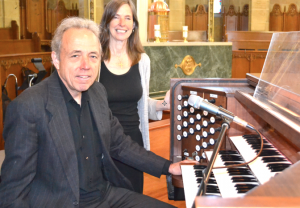 By John Stegeman
The Catholic Telegraph
Alice and Steve Barnes, a husband and wife duo, are music director and organist, respectively, at Holy Trinity church in Norwood. 
Their days of playing music together actually started in the club scene in the 1970s. A mutual friend introduced the two while Steve was playing the Night Owl coffee house in Clifton.
Steve, a trained pianist, had been playing solo in clubs for a time when guitarist Alice joined him and the two performed as a duo. Not long after they met, they married. When the couple began to have children, Alice stepped away from the club scene but Steve went on to be part of a well-known local band called Rainmaker that played a long stint at the now-demolished 20-Mile House in Deerfield Township.
While Steve continued as a professional musician, Alice worked in Catholic schools assisting with music and as a kindergarten aide. Along the way, she started playing in an ensemble at Mass. She began playing at Sts. Peter and Paul (now Holy Trinity) in the 1980s, splitting time with another musician.  In the mid 1980s, Alice started a choir at Sts. Peter and Paul and it was around that time she and her husband started to play together again as Steve began assisting on piano at Mass.
"Steve would come in once in a while and play with me then, but not all the time," Alice said. "When the parishes merged here in Norwood in 1994, from that point until 2000 we had a contemporary ensemble. It was around that time that Steve started playing on a regular basis here with that group."
Both Steve and Alice come from musical families. Steve's father, Otto, played guitar and piano and long-sang in choirs at area Methodist churches.  Alice's father, Ralph Moehring, also sang in a choir at Salem Church of Christ.
In 2000 Alice was named the parish's music director. Shortly thereafter, Steve became the organist. The arrangement has worked well, allowing the two to spend plenty of time together.
"There's nobody else I would rather play with," Alice said.
Like any coworkers, there are moments of stress, but their commitment to each other and their complementary talents always help ease the tension.
"It can get a little testy, especially during Holy Week," said Alice. "There's just so much music and so many things to coordinate… I'm usually the organizer, and he's the one that is really good at arranging and figuring out what will work well musically."
"We usually bow to the other person's field of expertise," Steve added.
Turning work into worship is a challenge for many church musicians, but for Steve and Alice, they are in it together.
"Steve isn't Catholic, but still it's nice (to be at Mass together)," Alice said. "It is a spiritual experience we can share."
This article, part of a special section on pastoral music, originally appeared in the July 2014 print edition of The Catholic Telegraph.