Friars Studio brings artistic opportunities to Over-the-Rhine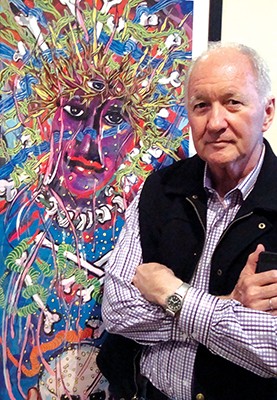 By Patricia McGeever
For The Catholic Telegraph 
The renaissance of Cincinnati's Over-the-Rhine neighborhood is bringing new restaurants, shops, apartments and galleries into rehabbed buildings that, in many cases, are more than a century old. Inside one of those buildings, another type of renaissance is taking place. People who attend a painting retreat at the Friars Studio on Main Street are discovering things about themselves that come out in bursts of shapes and colors.
"This isn't about painting," said retired teacher Jan Ferguson who took part in a three-day painting retreat earlier this year. "It's about you letting go of control, letting whatever wants to come out, come out."
She calls the experience cathartic, therapeutic and peaceful and she plans to do it again. The retreats are led by Franciscan Father John Quigley. Himself an artist, Father Quigley began refocusing on art projects a few years ago after returning from Europe. He spent 11 years in Rome working with his order's general government on social justice issues and 12 years in Geneva working with the Human Rights Commission on human rights and climate change. He got permission to open the studio and he preaches to groups all over the world to raise money to support it.
"This building was just an old storefront," he said of the location that serves as a gallery and his personal workspace. "There was nothing in here expect one light bulb and stacks and stacks of papers."
Friends were managing the building for an out-of-town owner so he was able to remodel it and adapt it to his needs. A room in a building next door serves as the space for the retreats. It can accommodate about seven people at a time.
"Painting my way to God," is how Father Quigley describes the retreat. "With the belief that God's spirit is moving constantly in the universe, we're giving God another opportunity to do something with these colors in this time on this paper."
It is not a painting lesson. It's about putting a mark on the paper and seeing where things go from there. About two dozen people have made the retreat and most had never even held an artist's brush prior to the experience.
"There is no conversation. It's a silent reflection retreat," explained Father Quigley. "I move around and keep people moving and fresh." He added, "Sometimes a person's story, sad or happy, comes out on the page. It's sacred to God."
For Ferguson, who calls herself creative, the finished paintings are not ones she'd hang on her walls. But she said her final painting "came out of my heart." The bright colors made her think of her late father and "experience all the great things that he was."
"I think when you allow yourself to be in the moment and experience what's in your heart, I think when I connected with dad in that last painting, that was such a spiritual Holy Spirit moment" she said. "It was God giving me that gift, that dad is still there with me."
Father Quigley has given this retreat in Oldenburg, Ind.; Maggie Valley, NC; Wichita, Kan.: and in places as far away in Kuala Lumpur and Singapore. When he has the time, he works on his own creations, some of which now hang in the gallery. Other Franciscans will also get to display their talents in the studio. One friar showed his paintings in March. Another had a poetry reading in April. Exhibits are planned at the Friars Studio for one day during each of the next six months. Retreats are scheduled for June, July and August.  In the meantime, Father Quigley will continue to preach and paint.
This article originally appeared in the July 2014 print edition of The Catholic Telegraph.