In PROFILE, Michael Wergers; La Salle Senior Places Trust in God as He Aspires to be President of the United States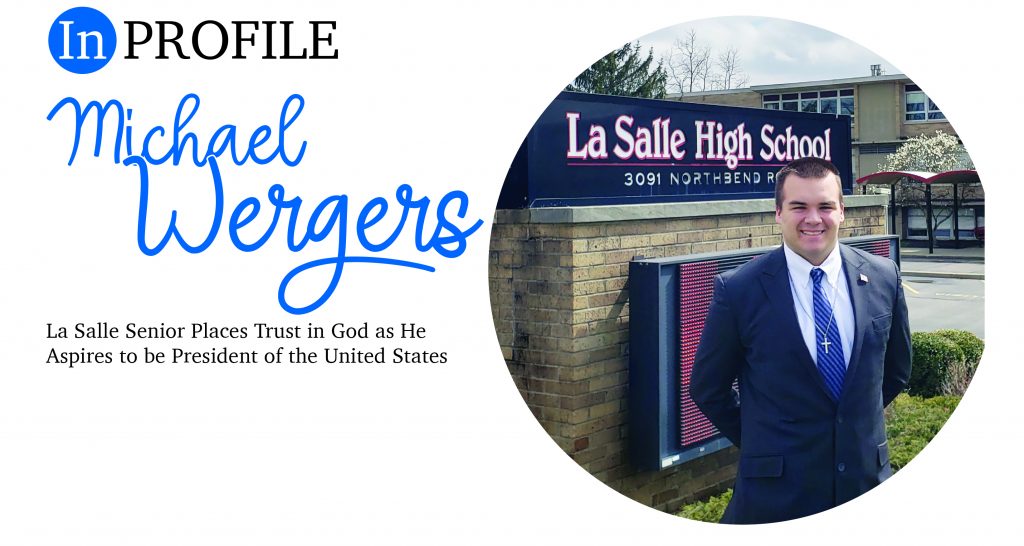 by M.D. Pitman
La Salle senior Michael Wergers knows what he wants to be when he grows up, but at 6-foot-3, he doesn't have much actual growing to do.
As graduating Lancers prepare to go off to college next year, he was waiting on acceptance letters in early April from his top two choices: U.S. Naval Academy in Annapolis, MD, or the U.S. Military Academy at West Point. Wergers will focus on two lifegoals: continuing his relationship with God and a 2052 bid for President of the United States.
Wergers has studied what it takes to be President, as his presidential and political interests were piqued going into his seventh-grade year at St. Antoninus School in Delhi Township.
"The things I loved studying were war, politics and government and the presidents," he said. "That's really how my dream to run for president came about, because I studied so much about the presidents."
That's also how his nickname "Prez" came about, too.
Wergers' servant mentality has been instilled by his parents, Jim and Renee Wergers, who say they have been "blessed" by their son's patriotism, and his "unquestionable" faith.
"His heroes weren't athletes, but they were military leaders and presidents," said Jim Wergers, a former police officer. "He's always had that motto to do something greater than himself."
Renee Wergers works in the finance department of a local law firm, a job she's had since she graduated high school.
"I always say, 'I don't care what party the president is, as long as the country is doing well, that's all that matters to me,'" Wergers said. "It's whatever gets the job done for this country is really where I stand."
Many high school seniors go to college to figure out what they want to do, but Wergers has at least the broad strokes of his plan outlined. He'll tell anyone trying to figure their life, "Worry about it, but don't become overanxious about it, and put your trust in God. Take a step back for a second, and kind of think about what you like."
While Wergers hopes to attend the Naval Academy or West Point, his first and second choices, respectively, he has a few backups, with his top fallback choice being University of Tampa. He said he's also been accepted to Xavier University, University of Tennessee, William & Mary and Columbia.
Wergers placed his patriotic passions on display earlier this year with some of his fellow La Salle seniors.
"It started with myself and three or four other guys, we're all seniors and we're all planning to go into the military," Wergers said. He and his classmates successfully launched a color
guard at La Salle High School as "a way to honor the veterans, and all the sacrifices they've made."
The color guard, in which Wergers carries the American flag, goes with La Salle's tradition of veteran appreciation.
La Salle High School dedicated its Veteran Monument in the school's courtyard entrance on Sept. 11, 2018. It honors the sacrifice made by all who serve in the U.S. military.
Wergers' La Salle basketball career ended on March 11 with a loss to Lakota East in the since-canceled state Division I basketball playoffs due to the COVID-19 virus. His senior baseball season was also cancelled due to the virus.
But sports do not define the aspiring politico.
"Faith plays a huge role and probably the most important role in my life. There are just so many lessons we can learn from Christ," said Wergers. "One of the biggest things that I've learned is that God has a plan for us, and it's up to us if we want to follow that plan or fall off that plan. I always say, 'When one door closes, and another one opens,' that's God saying this is where I want you to be."
That belief of "trusting God" has gotten Wergers "through a lot of things," and God's plan for Wergers is military service, he said.
"There's a famous phrase that goes, 'There's no greater love to lay down one's life for a friend," Werger said. "That's really my idea of serving in the military, the willingness to die for my country and the fact of what God says even motivates me more."