Cultivating the next generation of Catholics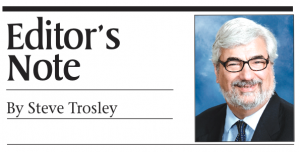 One of the more troubling concerns among journalism management professionals when the millennium arrived involved whether the next generation of reporters and editors would materialize.
Through the 80s and into the 90s, most talented journalism students followed the advertising/public relations and marketing track, where there was more opportunity and better starting pay. It might seem strange that a cadre of cynical newspaper editors worried about their replacements. Perhaps it's biological: Even wolves focus on succession and training the young. 
The colleges were turning out good enough journalism majors, but not enough. (Perhaps those students who bailed foresaw the clumsy butchery corporate ownership would perpetrate on their titles, franchises and readership in the years ahead.)
The American Society of Newspaper Editors (ASNE), after some study, created a high school program. Using grant money from various news entities and under the auspices of Northwestern University, ASNE created instructional guides and found ways to bring high school juniors and seniors into print publications and editors into high schools.
In many places, the program died on the vine. The demands of daily journalism and secondary education did not allow time for pry-barring one more activity into already full schedules.  Besides, an informal poll of veteran journalists quickly showed that most of them fell in love with writing and reporting long before they came to high school.  It may not be universal, but among my peers, the cupid's arrow of numbers or grammar or science or almost everything – struck its first bulls-eyes during what one might call the formative years.
Which is why it is so important that Catholics as people of faith, become invested in their schools.
One of the joys of my job at The Catholic Telegraph is getting into one of our Catholic schools to do a story. Watching the teachers work with the kids, however challenging they may choose to be, is really worth the time and effort.
I suspect the school in your parish would welcome a visit from someone besides a parent. Or you can take advantage of the activities planned for Catholic Schools Week Jan. 25-31 (See the stories and open house ads in this edition. Catholic Schools: Communities of Faith, Knowledge and Service.)
Or you can do one better: If you belong to a civic club or even a parish organization, help arrange for its members to tour a school — or two or three.  Invest a few hours in volunteering. This is where the next generation of committed, faithful Catholics is being cultivated. Shouldn't you be invested in that, for the sake of your own faith?
You can take it one step further.  If you know one of the community's movers and shakers, drag him or her into a Catholic school for a visit. We need their investment, too.
You say your kids are all grown and you don't care about schools anymore. So OK, grab some daisies, hold them on your chest and lay down out of the way. Seriously, age or stage of life is no excuse to check out before you're called. The Lord has work for you to do every day that you draw a breath.
You can be a part of sharing and cultivating the faith through working with one or more of our Catholic schools. You don't have to put your hand in your wallet and you should leave your politics at home, but put your experience and example to work, helping some youngsters appreciate the wonderful gift of Catholicism.
We're not just here to find redemption for ourselves. We're supposed to take others with us.  See www.catholicbestchoice.org for more information.
This Editor's Note column by Steve Trosley originally appeared in the February 2015 print edition of The Catholic Telegraph.