Lighting the Way still bearing fruit for Catholic schools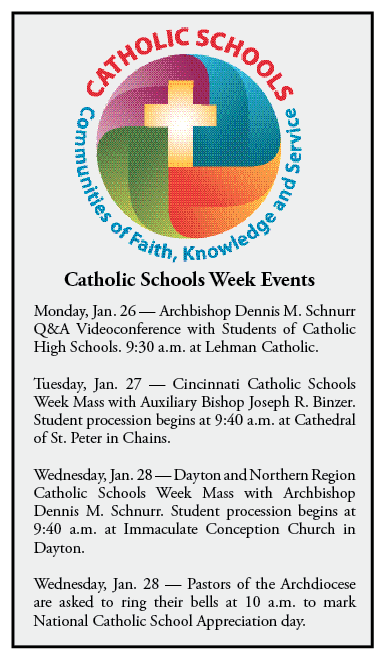 By John Stegeman
The Catholic Telegraph 
UPDATE: The Archbishop's Q&A videoconference with students scheduled for Jan. 26 has been cancelled as a result of school closings and delays.
In 2012, the Archdiocese of Cincinnati released "Lighting the Way: A Vision for Catholic Schools." That unified vision has continued to guide the work of the Catholic Schools Office.
"For the last three years our work with Catholic schools in the aggregate has largely emerged from Lighting the Way: Our Vision for Catholic Schools," said Jim Rigg, superintendent of Catholic schools for the archdiocese. "We are now in the third year of implementing the vision."
Rigg sat down with The Catholic Telegraph Jan. 6 to discuss some key data and some of the prevalent initiatives related to the 2014-15 school year.
By the Numbers
For the current school year, 43,961 students are enrolled at the 113 Catholic school located within the Archdiocese of Cincinnati. Of those schools, 82 are parish-sponsored elementary schools, eight are elementary schools not sponsored by parishes, 12 are high schools owned/operated by the archdiocese, and 12 are high schools owned/operated by religious orders or private boards of trustees. That number adds up to 114 because Royalmont Academy is a single institution serving K-12.
For many years the archdiocese schools were seeing declines in enrollment. While that trend hasn't stopped entirely, Rigg said it has leveled off. Last year Archdiocese of Cincinnati Catholic schools saw a decline of 0.9 percent; this year it was 0.8. At this point, the decline is possibly more related to changing demographics of the region. Despite the mild dip, the archdiocese schools make up the sixth-largest Catholic school system in the United States.
"I should mention we continue our trend of picking up a larger percentage of the market share," Rigg said. "Part of the reason we're declining is that the overall population is declining. There are just fewer people in southwest and western Ohio."
Catholic Identity Metric
From the beginning, Lighting the Way called for the introduction of a Catholic identity metric to quantitatively gauge a school's religious effectiveness. That metric is being piloted this year.
"We know that you can't boil down Catholic identity to a number," Rigg said. "True Catholic identity lives and breathes through a school and is part of the school's ethos, but there are some quantifiable outside indicators that we think can grab and put onto a metric to give back to our pastors, principals and DREs to serve as the beginning of a conversation."
Those indicators are broken up into three categories of Wisdom, Worship and Works. Wisdom deals with how well students know the faith and the extent to which they can express it. This can be measured, in part, by a national standardized test from the National Catholic Educational Association that the diocese has used for some time.
Worship relates to whether Mass is offered at school and how often, if other sacraments are offered, whether prayer is a part of school life and more. Works seeks to measure not only that community service is present in the schools, but that students understand how that relates to the faith.
Worship and Works metrics will be measured mostly by surveys and the assessment of the Catholic Schools Office and Office of Evangelization and Catechesis during their visits.
"We know that not all of our students, and not all of our teachers, are Catholic," Rigg said. "Nevertheless, we are Catholic schools."
In addition, this year the academic metric is also being piloted. While that metric will help schools to improve their academic performance, Rigg explained that academics are already a "clear strength" of Catholic schools in this archdiocese.
"Every school, however, can always improve," Rigg said. "You're never perfect. With academics by and large our schools perform very well and we find this is a major reason families come to our schools to begin with. We always outshine other schools, public schools, when you compare testing data and our college entrance rates are very, very strong."
High School Religion Curriculum
The archdiocese has long had a standardized religious curriculum for grade schools, but a new high school religious curriculum is being phased in this year, beginning with freshmen. The curriculum is based on the doctrinal guidelines of the United States Conference of Catholic Bishops.
The curriculum allows each school the liberty to decide how they will teach and which approved textbooks they can choose from, but will help to standardize the religious education experience in high school.
"This will help make sure that when a student graduates from any of the 24 high schools of the archdiocese, we can say, 'This is what we know they know,'" Rigg said. "High schools are at liberty to add electives and things on top of that relating to religion, but we want to make sure there's a common base of understanding.
"I wouldn't want to sort of McDonald-ize our schools," Rigg added. "Each school has its own unique identity and I think that's important and is a strength. At the same time, we need to facilitate the spreading of best practices and make sure there's a common base of teaching the faith for our students."
Tuition Assistance
Elsewhere in this edition of The Catholic Telegraph the official announcement came concerning a $130 million capital campaign for the Archdiocese of Cincinnati. Fully half of that amount, $65 million, will be used for Catholic school tuition assistance in the form of need-based scholarships.
"Lighting the Way was really what thrust the idea of a capital campaign forward," Rigg said. "We identified affordability as the No. 1 reason why families don't come to our schools, and why families leave our schools midway through their kids' Catholic education. We knew we needed something to better support our families in affording the escalating cost of tuition."
Latino Initiative
Beginning in 2011-12, the Catholic Schools Office began an initiative to encourage families of Latino descent to send their children to Catholic schools. That effort has paid off and this year roughly 4,000, or 9.1 percent, of students in the archdiocese Catholic schools are Latino.
"We had a fraction of that just three or four years ago," Rigg said. "We've just seen an explosion of that population in several of our schools."
Rigg noted St. Clement in St. Bernard, Holy Family, St. Cecilia, St. Lawrence, Our Lady of the Rosary in Dayton and St. Anthony in Dayton as a handful of schools that have seen success with the initiative.
The Catholic Schools Office employs a two-person staff dedicated to this initiative.
Many of the aforementioned students are bilingual, but their parents are often not, Rigg said. The majority of these students are first or second generation immigrants from Mexico, Guatemala, Peru and Brazil.
The diversity of archdiocese Catholic schools continues to grow as well. Rigg said schools are seeing an uptick in the number of students for whom English is a second language from southern and southeast Asia as well.
This story originally appeared in the Catholic Schools Week section of the February print edition of The Catholic Telegraph.