Czech cardinal welcomes plan to pay billions to churches for property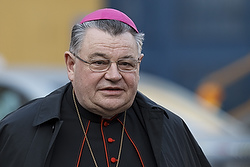 By Jonathan Luxmoore Catholic News Service 
WARSAW, Poland (CNS) — A Czech cardinal welcomed final court approval of government plans to pay billions of dollars to churches in compensation for their losses under communist rule.
On June 3, the Constitutional Court cleared the way for the implementation of a 2012 law that says 56 percent of assets, valued at $3.8 billion, will be returned to Catholic, Protestant, Orthodox and Jewish communities, with $3 billion paid out over a 30-year period as compensation for the rest of the properties. During that same period, annual government grants to churches will also be phased out.
"This ruling on the law for property settlements closes one of the infamous chapters in our history," said Cardinal Dominik Duka of Prague. "Our society can congratulate itself (that) it has finally resolved this problem and remedied the damage done to churches under communism."
In a statement, he said the "compromise solution" would benefit society, despite rival claims "that churches have given up too many assets which rightfully belong to them, and voices saying just the opposite."
"The Constitutional Court has reached its decision with substantial factual arguments, not theatrical performances," said the cardinal, who is president of the Czech bishops' conference. "Churches and religious communities will now be able to devote themselves to more substantial issues and to their true role of strengthening society's spiritual dimension, defending human dignity and serving the needy."
The fate of thousands of church lands and properties seized after the 1948 imposition of communist rule has been a point of dispute in the Czech Republic since the 1989 Velvet Revolution.
The law was narrowly adopted in November but was challenged by some members of parliament, who appealed to the Constitutional Court.
In its ruling, the court rejected legal and procedural complaints and "general historical objections" and said claims that "church property was subject to the public domain" were incorrect.
It added that the law's compensation levels "took into account the current political and public interest" and were "fully legitimate" in the context of church-state separation.
Cardinal Duka, who was stripped of his priest's license and jailed after secretly joining the banned Dominican order in 1965, urged Czechs to "consign this problem to the past."
"Let's now get together to build hospices for the old and dying, develop our charitable work and set up schools," he said.