God's Garden yields bounty for Englewood's needy families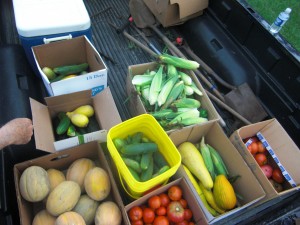 By Kathy Schwartz
For The Catholic Telegraph
Sue Sack says you can tell what kind of person she is from her excitement over the donation of a tiller.
She is a gardener, but not just any gardener.
Sack, director of adult faith formation for the Northwest Dayton Pastoral Region, founded God's Garden of Eatin' at St. Paul Parish in Englewood. When there's an opportunity to make it easier to grow produce for needy families, she gets giddy. This spring, volunteers didn't have to haul in a power tiller to prepare 9,000 square feet of soil.
God's Garden was established 20 years ago, when, while volunteering with Catholic Social Services, Sack balked at the quality of food at Dayton-area pantries. Offerings included sugary cereals and white bread full of empty calories. There was some canned fruit, but little to no fresh produce.  These days, God's Garden donates about 1.5 tons of produce a year, mostly to the Northwest Pastoral Region's own pantry and Northmont FISH. Low-income families can count on tomatoes, greens, cucumbers, peppers, squash, potatoes, beans, melons, beets and broccoli.
With 13 acres of grass surrounding St. Paul Church, Sack saw an opportunity in 1993 to cultivate some of the land. The original plot was 4,000 square feet.
"I went to four people I knew who were gardeners. They were willing to help and brought others," she says. "From the beginning, we wanted to grow produce as organically as possible, make it educational, and create an outreach ministry."
St. Paul quickly ran a water line to the plot. Hand tools were carried in for years before an Eagle Scout built a shed. At the start of each season, parishioners and nurseries respond with donations of seeds and plants. Sack's small farm provides manure.
"We have a very limited budget," Sack says.  A challenge is rebuilding the soil after 20 years. "We're learning how to control weeds without chemicals, without constant tilling." Between plantings, cover crops of buckwheat and rye help smother invasive plants, attract beneficial insects and improve the soil.
There are blessings of the garden at planting time and harvest.  Six or seven volunteers show up two nights a week from late spring to fall. The total number of helpers is about four dozen over a season.  University of Dayton students, Boy Scouts and day-care centers have pitched in. Vacation Bible School classes have services in the garden, learning how to care for God's creation and how to work together.
Valerie Hagemeyer of St. Paul has marked the 7 p.m. God's Garden meetings on her calendar. The substitute teacher became involved about five years ago, when the garden was restarted after a two-year hiatus. (Sack had left in 1999. After her successors could no longer run the garden, she got a call in 2008 to "please come take this on again," she says.)
Hagemeyer says she wished to contribute financially to God's Garden. But with their children grown, "even my husband said 'let's go' " help in the garden itself.
Hagemeyer loves seeing older people enjoy the produce. She's brought garden flowers and extra vegetables to seniors who have limited incomes and to those living with dementia. The smells and tastes trigger stories.
She's also amazed at the people with physical limitations who work in the garden. "A lady with a cane who had a stroke has to carefully get up, but she'll sit on the ground" and do what she can, Hagemeyer says. A man who doesn't have the use of both arms still pulls a wagon one-handed.
"I do what I can," Hagemeyer says. "I love to be outside." A picnic table offers a place to appreciate God's bounty and watch the birds drawn to the sunflowers.
"I saw the garden as a way to grow relationships in the parish and the community." She will soon be receiving the Archdiocese of Cincinnati's Spirit of Sister Dorothy Stang Award for environmental justice, in part for the garden.
Sack says hunger in the Dayton area was worsened in the past 20 years. Just before tilling began this year, God's Garden had already spawned three emails from groups curious about starting a gardening program.