December Family Activities make for a focused Advent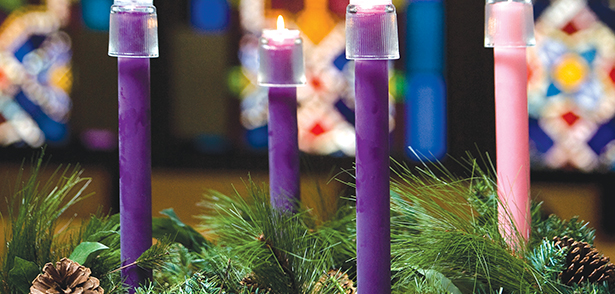 Staff Report
Anymore, the culture would have you believe that the Christmas season begins immediately after Halloween.
Stores are decked out in red and green with well-trimmed artificial trees long before the First Sunday of Advent even rolls around.
Certainly some tasks, like Christmas shopping, must take place before Dec. 25, but the church reminds us that before we celebrate the birth of Christ, we should prepare for it. Here's a look at some ways to celebrate with your family during this festive season.
Advent with Daily Scripture & Wreath ritual
Construct an advent wreath, and each evening, follow the readings of the day and have a short time for reflection. As a family reflect on opening our hearts to the birth of Christ historically and the second coming. Each night have each member of the family pray for someone they know, a friend, relative, schoolmate, co-worker, etc. End the prayer service with a verse of  "O Come, O Come Emmanuel".
Fast & donate that to a local charity
Pick a day during Advent that your family would normally go out to eat, and make that a day of awareness of a local charity. Take the funds you would have spent at the meal and donate that toward your charity of choice whether it be your parish or call Catholic Charities of Southwest Ohio, The Archdiocesan Mission Office, etc.
Write a letter to the Christ Child
On the first Sunday of Advent, instead of writing a letter to Santa Claus, have your children write a letter to the Christ Child. Similar to the letter to Santa Claus, have the children write down their love for Jesus, what they wish to accomplish during advent, and perhaps what they wish for Christmas.
Visit a Catholic Bookstore
Find a local catholic bookstore or gift shop in your area. You can find special, meaningful gifts for your family and friends, whether it's a prayer plaques, rosary, statues, picture, bibles, books, DVD's, so much more. A special item is Frankincense and Myrrh for a unique gift for a special family. Additionally, there are some online options that are a great place to explore that special Christmas gift.
St. Nicholas Day, Dec. 6th
This feast day is a great opportunity to learn about St. Nicholas, and revive the tradition of putting out a stocking and filling them with treats such as fruit, candy, coins etc. Invite some of your family and celebrate the life of St. Nicholas. Read the story to your family, and have candy canes (symbolizing the crozier) and cookies for everyone.
The Feast of St. Lucy, Dec. 13
St. Lucy is a patron saint for blindness. Take some time today as a family to pray for those that are blind, or have sight problems. Once again, find the story of St. Lucy and share that with your family. There are many recipes and unique food for the celebration of St. Lucy; from an Italian recipe of Cuccia (St. Lucy's day soup), or cupcakes, to Santa Lucia's Crown. Additionally, have the children make a crown for the feast day and you can find these ideas online, (generally a crown with four candles).
Christmas Field Trips
Take some time during the holiday season to visit the great sacred spaces of the Archdiocese of Cincinnati. Visit St. Peter in Chains Cathedral, in downtown Cincinnati plus many other amazing churches (St. Francis Xavier, Old St. Mary, St. Louis etc.) In the northern part of the diocese, take a day to visit the Maria Stein Shrine. You can find information at www.mariasteinshrine.org. Also you may want to take some time to visit a parish the parents or grandparents attended and celebrate a daily Mass.
Advent Reconciliation Service
Many parishes have an Advent Reconciliation Service. Use this day or evening to spend time at church and receive the sacrament of reconciliation. Prior to the service, take some time at home and lead an examination of conscience. Check out www.usccb.org as a resource to prepare for the sacrament. The list contains examination for children, young people, married couples, etc.
Christmas Day
Design a prayer for your family to thank the Lord for the gifts, the tree, the food, etc. Additionally, pray for all of those suffering hardships whether it's in the family, your parish, the nation and world (for example pray for those affected by the typhoon in the Philippines). Pray for your local pastors and associates, and perhaps during the holiday season, send them as a family a note of thanks.
This article originally appeared in the December 2013 print edition of The Catholic Telegraph.