Everyday Evangelist: Woman finds 'higher purpose' with husband's diagnosis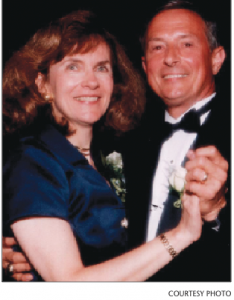 By Lisa Biedenbach
For The Catholic Telegraph
When couples vow "I do" on their wedding day, they probably don't think long about the phrase "in sickness and in health." For most couples, the commitment to stick by a spouse "in sickness" often doesn't kick in until late in a marriage. What happens when serious illness challenges a couple who hasn't yet reached age 50?
Paula Kollstedt said she felt "stunned" more than a decade ago when her husband, Steve, not yet 50, was diagnosed with "probable early-onset Alzheimer's" (diagnosis before age 65).
"We knew little about Alzheimer's, except that people may get it in their 80s or 90s, not their 50s," Paula said. "What the doctor told us next was equally jarring — that there was nothing we could do about it. We were told Steve should take Aricept, one of the few Alzheimer's drugs available. The drug wouldn't slow the disease, just help with symptoms. The neurologist said to come back in six months."

Paula recalled that several years before the formal diagnosis at age 50, Steve, a pilot and aviation engineer, would occasionally do things that were out of character for him.
"I never thought of his rare lapses in memory or judgment as symptoms of something more serious," she said. "The first time I noticed something truly unusual was a long discussion about where to host our daughter's wedding. We were checking out churches, and I was worried that a Florida venue would be too far for family to travel, so we talked until late into the evening. Finally I said, 'What should we do?' and Steve answered, 'About what?' 'About the wedding,' I said. And he answered, 'What about the wedding?'"
Taken aback that Steve didn't remember their conversation, Paula chalked up her husband's memory loss to a partner's "selective listening." But she continued to notice more lapses and then one day Steve's manager at GE Aviation, where Steve was an engineer, called and said Steve's behavior was of serious concern: Steve would converse with people, then return ten minutes later and repeat the same conversation.
"With that call," Paula said, "I knew we had to check things out. And so began more than nine months of physical, psychological, and other tests, including a spinal tap and brain scan." A second opinion from the Alzheimer's Treatment Center at St. Louis University, where Steve went through further tests, confirmed the original diagnosis.
Doctors could not provide a cause for Steve's dementia, Paula recalled, and Alzheimer's doesn't run in his family.
"Part of the horror of this disease is that today its causes aren't known," Paula said. "Certain disorders, including diabetes and Parkinson's, can put someone more at risk for dementia, but Steve had neither disease. Recently scientists have made a connection between head trauma and early dementia. Steve was a decorated helicopter pilot during the Vietnam War and was shot down during a rescue and lost consciousness for a few minutes and probably suffered a concussion. But since the head injury occurred during combat, he didn't receive treatment."
She said Steve received two Distinguished Flying Crosses and a Bronze Star with "V" for valor in Vietnam, and when he returned to civilian life, he was rehired by GE, where he had interned before the war. He worked for GE the rest of his career and piloted a helicopter for 25 years for the Ohio National Guard.
"This disease," she said, "is devastating to the individual and his or her family, no matter what age the person gets it. But to have this happen when you still have children in school, when you're very involved in your career, when you have so much happening in your life and so many people depending on you, it's particularly treacherous."
Paula, a writer and public relations professional whose career has included working in communications, media, community and public relations for more than 25 years, also worked at GE Aviation but left GE two years ago to become executive director of the Alzheimer's Association of Greater Cincinnati, a career decision that jibed perfectly with her personal mission to work to prevent and end Alzheimer's.
Paula credits professionals at the Alzheimer's Association with helping the couple through educational programs, private consultations, and an early-onset support group that remains a lifeline for them today.
"Thanks to the association we learned about the disease, how to handle behaviors and critical legal and financial planning," she said. "As we experienced the devastating impact of dementia personally, saw it play out in the lives of so many others, and learned about the epidemic nature of this disease, we knew we had to do something. It was at that time that the Alzheimer's Association approached me about leading the organization, and though it was difficult to leave a company that I loved, it was the right thing to do.
"It's been said that your mission is where your talents and the needs of that world intersect," Paula added. "That's what the Alzheimer's Association and the fight against this terrible disease is for me — an incredible opportunity to be part of a movement that is driven to solve one of the world's toughest problems. I know that Steve — who is the real everyday evangelist in our family — would love that I'm doing this work."
Paula acknowledged that coping with the disease is a struggle and challenge because Alzheimer's is a long, continuous cycle of losses for which you go through the grieving process over and over again.
"What makes all of this even more difficult is that your best friend, the person you have spent most of your adult life solving problems with, is not only no longer able to help solve the problem but can exhibit behaviors that become part of the problem itself."
With the help of God, family, and friends — and very significantly, Steve himself — Paula said she and their four children and eight grandchildren are working through the illness. And, too, she noted, the support of her parish, St. Ignatius in Monfort Heights, is invaluable.
"The principles of our faith that the church champions are extremely comforting and provide a great framework for this disease and many others — the sanctity of life, no matter what stage; the promise to be there in sickness and in health; the knowledge that God is holding Steve in the palm of his hand; the belief that all Steve is going through is for a higher purpose, and one day we'll be together in heaven—all means so much."
This article originally appeared in the December 2013 print edition of The Catholic Telegraph.