December issue to highlight Advent, Christmas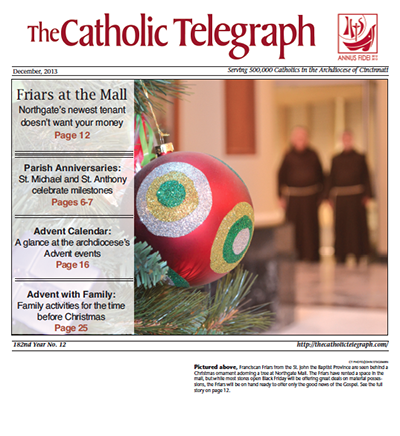 Staff Report
As a monthly publication, the December issue of The Catholic Telegraph serves both as an Advent and Christmas edition of the paper. With that in mind, readers will find a seven-page Advent & Christmas section.
The section contains the annual Advent Calendar, a story about local Franciscans' ministry to holiday shoppers, a story about family Christmas traditions and more.
December also features the return of the Everyday Evangelist feature with the story of a woman who found a higher purpose while living with her husband's Alzheimer's diagnosis. Also returning, for presumably the last time, is Greg Hartman's column Lay Perspective, which in this issue deals with the end of the Year of Faith.
In addition, the December issue features two parish anniversary stories, a report on the archdiocese's new human resources director, a story about a local man meeting Pope Francis and our usual lineup of columnist, local, national and world news.
The December edition of The Catholic Telegraph should reach mailboxes Wednesday, November 27. To receive future editions of The Catholic Telegraph, at no personal cost, email Greg Hartman or call 513-421-3131 extension 2215.
Founded in 1831, The Catholic Telegraph is among the oldest Catholic newspapers in the United States. It is the official newspaper of the Archdiocese of Cincinnati, reaching more than 150,000 homes each month.
Editor's Note: A printer error resulted in a garbled headline on page 14. The headline should have read "What is Gifts of the Magi?"