DePaul Cristo Rey joins new all-Christian athletic conference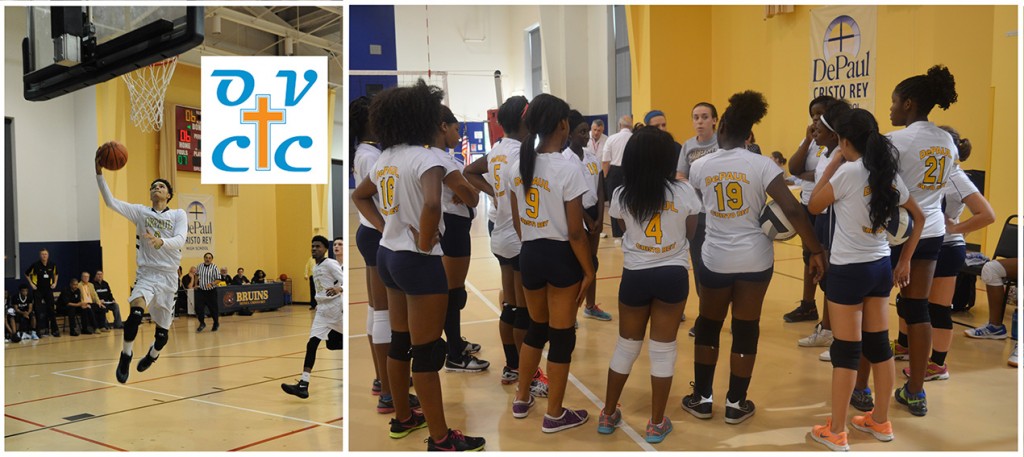 DePaul Cristo Rey High School announced March 21 that the school will join the newly formed Ohio Valley Christian Conference (OVCC) for all sports beginning with the 2016-17 school year.
The Bruins had been members of the Ohio Valley Athletic League since the school opened in 2011.
The new league includes seven charter schools including DePaul Cristo Rey, Dominion Academy (Dayton), East Dayton Christian School (Dayton), Immaculate Conception Academy (Norwood), Mars Hill (Mason), Spring Valley Academy (Centerville) and Temple Christian School (Dayton).
While the seven members vary in denominational affiliation, they share a common Christian bond. DePaul Cristo Rey Athletic Director Lynne Morris said that bond attracted the school to join the league.
"That was one of the appeals," she said. "The size, the philosophy, the Christian atmosphere in the league, and that we're all non-OHSAA. (Ohio High School Athletic Association) We're very similar in that respect."

Founding a new league
The league was the brainchild of Josh Terwilleger. The former special ed teacher and coach, who spent time at St. Ignatius Loyola and Ursuline Academy, is a 1996 graduate of Milford Christian Academy. Terwilleger is now a personal trainer in addition to running the OVCC. He played sports all four years in high school, but only after graduation realized what he missed out on. Schools like Milford Christian, and the seven schools in the OVCC, are not members of the OHSAA and often don't get to participate in postseason games. Most schools of that stripe also aren't affiliated with a conference.
"Schools that are not in the OHSAA, there isn't anything for them," Terwilleger said. "They have a loose state association with a tournament for the top teams but there's no conference." By contrast, Terwilleger said in the OHSAA, "those student athletes played meaningful games, they were able to win personal and team awards. That was something that was never there (for me)."
That inspired him to start the OVCC.
That all seven charter members are Christian, and that Christian is part of the league's name, was no accident. The league includes Catholics (DePaul Cristo Rey), Anglicans (Dominion Academy), Society of St. Pius V adherents (Immaculate Conception Academy), non-denominationals (Mars Hill and East Dayton Christian), Baptists (Temple Christian) and Seventh Day Adventists (Spring Valley Academy).
That diversity was both a challenge, and a defining trait for the new league.
"Honestly, I think that's what has held things back in the past," Terwilleger said. "Even when we got this group together, there were different concerns from different people that their interpretation of what Christianity is might be different than someone else. My main thing I was trying to drive home is this is not doctrinal. We're not going to sit down and talk about the bible, this is an athletic conference that's come together. Instead of pointing out our differences, let's celebrate the fact that we all believe in God."
When the OVCC begins play next fall, it will sponsor team competition in soccer, volleyball, cross country, boys and girls basketball, baseball and track and field. Plans are in the works to develop a individual competitor tournament for sports like golf, bowling and tennis.
The league has a Facebook page at Facebook.com/ovccsports.

A growing athletic department
DePaul Cristo Rey isn't about to be mistaken for the Catholic athletic powerhouses of the Greater Catholic League, but the young school's athletic department is growing.
The Bruins have managed to make a mark on the greater Cincinnati athletic scene in recent years. While in the OVAL, members of the boys and girls basketball teams earned All-Conference honors in 2014, a school first. The boys basketball team finished fourth in the Ohio Christian School Athletic Association state tournament in 2015.
This year the school offers volleyball, cross country, boys and girls basketball and track and field. The school also has an instructional baseball and softball program, and the instructional co-ed soccer program will play some OVCC games this year with an eye on fielding a competitive team in the future. Intramural flag football is also coming soon for the department.
"There's definitely been a lot of growth," Morris said. "We're seeing a lot more kids coming and trying out. Each year we see more and more interest in the different sports that we have."
With an enrollment of 278 students, (103 boys and 175 girls) DePaul Cristo Rey would be a Division IV school in boys basketball and Division III in girls basketball if it were an OHSAA member. Morris said DePaul Cristo Rey has considered becoming an OHSAA school, but a switch is not imminent.
"We have talked about going through the process of becoming an OHSAA school, however, last year our boys basketball team played very well in the OCSAA tournament," Morris said. "We felt like we'd like to stay with that and build them up for a couple more years."

Unique challenges
Balancing academics and sports while building an athletic department is always a challenge for high schools. DePaul Cristo Rey's unique educational model creates additional difficulties.
Students at DePaul Cristo Rey participate in a corporate work study program that has them out of the school building frequently.
"That's one of the things that becomes very creative," Morris said. "(Students) all work one day a week and they alternate Fridays. On any given practice you're always going to be missing whatever student-athletes you have that are working that day. (Coaches) have to remember the next day they'll be missing different kids so you have to reinforce what you did the day before."
The school administration remains committed to giving its student-athletes the chance to compete in sports while succeeding in school.
"We have drivers that will wait for the kids to get out of work, because the bus may have left earlier," Morris said. "They take the van to track meets or games. They may not be there at the very beginning but they get to finish the meet or the game or watch the games that occur… It's something that every coach has been able to work around and does a really good job with… This is probably one of the best administrations as far was the support we get in the athletic department."