Throwback (Holy) Thursday: Clergy gather at Chrism Mass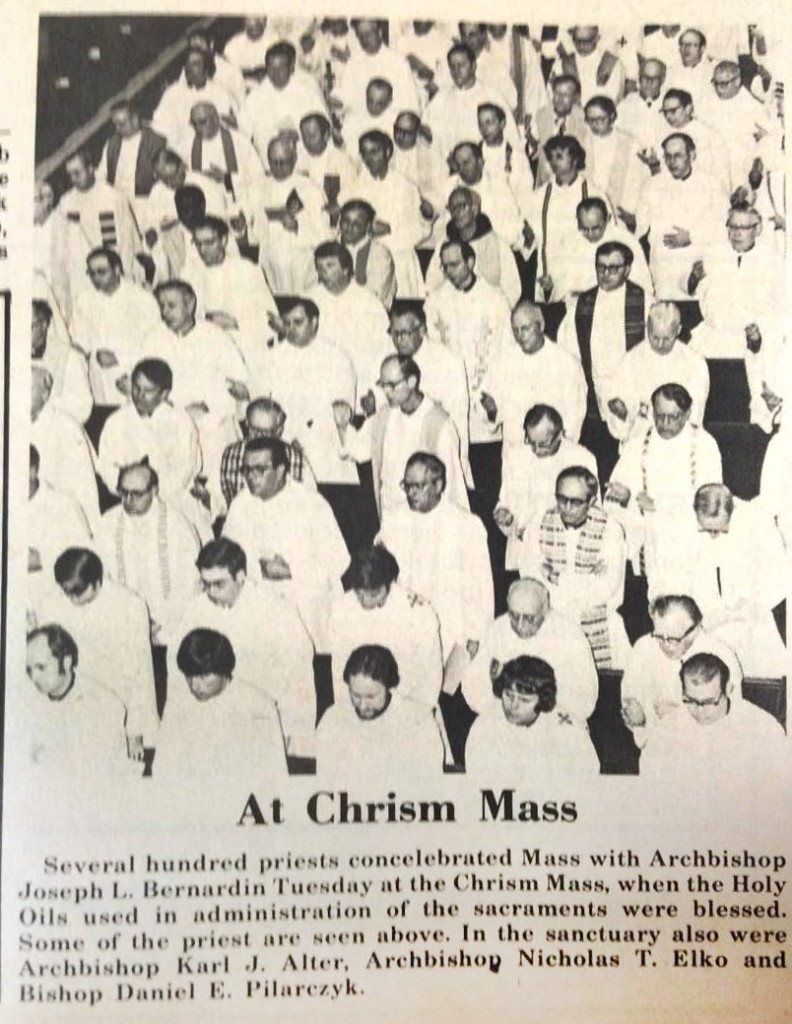 In every diocese around the globe this week, a Chrism Mass was (or today will be) celebrated.
At this Mass, priests, deacons, religious and laity all gather with their bishop, generally at his cathedral, where he will bless the holy oils that will be used throughout his diocese for the coming year.
One of the more striking images at the Chrism Mass is the sight of so many priests coming together with their bishop to concelebrate the Mass. This is also seen locally during ordinations to the priesthood.
For this Throwback (Holy) Thursday, we submit a photo (top right) of that coming together. You've probably seen this photo before. Maybe you haven't seen this specific image from the April 16, 1976 edition of The Catholic Telegraph, but you've seen the subjects and location.
It is a photo of the 1976 Chrism Mass held at the Cathedral of St. Peter in Chains. The photo of the priests gathered together in the north-end pews of the cathedral was likely taken from one of the side balconies.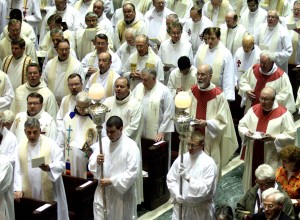 We've also included the same general photo from 2010 and this year and as you can see, that spot in the pews is still reserved for the priests at the Chrism Mass.
Of note, the Chrism Mass in many dioceses takes place on Holy Thursday morning, but at the discretion of the bishop can be moved to an earlier day still near Easter.
According to rites of the Chrism Mass, the bishop says to the priest in these or similar words, "My brothers, today we celebrate the memory of the first eucharist, at which our Lord Jesus Christ shared with his apostles and with us his call to the priestly service of his Church. Now, in the presence of your bishop and God's holy people, are you ready to renew your own dedication to Christ as priests of his new covenant?" They each respond, "I am."
"This liturgy is seen as a symbol of the close bond between the diocesan bishop and his clergy because the priests who are present renew their commitment priestly service," said Dan Andriacco, communications director for the Archdiocese of Cincinnati.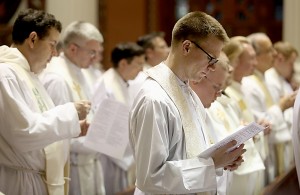 As his counterparts did across the globe, Archbishop of Cincinnati Dennis M. Schnurr blessed the Oil of the Sick, Oil of the Catechumens and Sacred Chrism. The Archdiocese of Cincinnati celebrated its annual Chrism Mass Tuesday, March 22 at the Cathedral of St. Peter in Chains as part of Holy Week. See photos from the Chrism Mass HERE.
Welcome to The Catholic Telegraph's edition of Throwback Thursday. Throwback Thursday is a weekly online feature wherein users of social media share an old photo or anecdote about times gone by. We use Throwback Thursday to highlight the history of the Archdiocese of Cincinnati, and our publication.
Recent Throwback Thursdays
Irish Dance a St. Patrick's Day tradition
Role of women in the church examined
Just keep slugging
Farewell to the Catholic Chronicle
McDonald's Fish sandwiches started here
Consider getting the print edition