A Closer Look: Patris Corde: Developing A Father's Heart with St. Joseph

On Dec. 8, 2020, Pope Francis promulgated his Apostolic Letter, Patris Corde ("With a Father's Heart"), to commemorate the 150th anniversary of the declaration of St. Joseph as Patron of the Universal Church and to proclaim a Year of St. Joseph. Patris Corde is a meditation on the life of St. Joseph, commemorating him as a beloved, tender, obedient, courageous and faithful foster father to Our Lord and, as such, an example to all fathers.
But as St. Joseph is patron of the entire Church, he is a source of spiritual comfort and strength not just to fathers, but also to their children, which includes all of us. This is an especially acute point for me for two very personal reasons: First, I did not know my own father, who was killed in an automobile accident three months before I was born. As such, I take special solace in the spiritual fatherhood of St. Joseph, a medal of whom hangs close to my own heart. And second, as a father, I am both deeply aware of my obligation to be a faithful witness to my nine children, and profoundly disappointed with those many times I've failed in that duty. Pope Francis speaks to this in Patris Corde.
ST. JOSEPH'S ROLE
The Holy Father begins by emphasizing St. Joseph's role in salvation history. As the spouse of St. Mary and father of Jesus, St. Joseph "placed himself . . . at the service of the entire plan of salvation" and "cooperated . . . in the great mystery of salvation." Of course, as the foster father of the Savior, St. Joseph's position is unique in this regard. He gave himself completely to God's plan for redemption, submitting to the will of the Father for the good of humankind. As a father to my children, I cannot duplicate that profound submission. I can, however, participate in St. Joseph's uniquely radical cooperation, as a witness to my children of the joy of the gospel. As the man closest to Jesus, St. Joseph is a constant reminder of my duty to draw my children closer to Our Lord. And he is my refuge when I fail.
As Pope Francis goes on to explain, St. Joseph is an example to all of us in his quiet, docile witness to God's salvific plan. This is a reminder that almost no one is converted to the faith (or has his faith deepened) by argument or debate. Rather, people are persuaded by persistent witness to the truth and joy of the gospel. This is exemplified by St. Joseph, whose pattern "is not one that explains, but accepts," says Patris Corde. Trusting God, St. Joseph is our example of keeping our eye on the goal, accepting our evangelistic roles, and "to accept life as it is, with all its contradictions, frustrations and disappointments." By his persistent example of enduring the confusion of a mysterious future, St. Joseph teaches us to persevere with grace rather than to despair with resentment. "Only as a result of this acceptance, this reconciliation, can we begin to glimpse a broader history, a deeper meaning."
A FATHER IN THE SHADOWS
Patris Corde ends with a consideration of St. Joseph as "a father in the shadows," which has at least a couple of meanings. First, as a father in the background, St. Joseph's love for Jesus, Mary and us is disinterested. As citizens of what some call a commercial republic, we Americans (including American Catholics) have a tendency to reduce every human interaction to a transaction, in which mutual rights are asserted or mutual obligations are enforced. We tend to expect something in return for everything we give. We think of every gesture as requiring a reciprocal gesture—a repayment. But Pope Francis offers St. Joseph as an antidote to this unfortunate tendency.
"St. Joseph found happiness not in mere self-sacrifice," explains the Holy Father, "but in self-gift." He gave of himself perfectly and completely, without any expectation of something in return. And as St. Pope John Paul II often said, one cannot give what one does not possess. The ability to give oneself wholly to another calls us to cultivate virtues of hospitality, generosity, self-control, temperance and humility.
Second, as a father in the shadows, St. Joseph is a model for fathers to set their children on the right course, but then to allow them to set sail on their own. It is a father's responsibility to show his children how to live their own lives, not to live their lives for them. Of course, this is subject to the normal course of physical, emotional, and psychological development. But even these considerations should always have an eye toward the ability of our children to go forth on their own – trained to choose well, but free to fail.
As Pope Francis puts it, "Every child is the bearer of a unique mystery that can only be brought to light with the help of a father who respects that child's freedom." If he is successful, the father becomes most "useless" precisely when he sees the fruit of his guidance: a child whose life follows the proper course, with gratitude for her father's tutelage. As such, our children may leave our homes, but they will never leave the hearts of their fathers.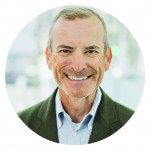 Dr. Kenneth Craycraft is an attorney and the James J. Gardner Family Chair of Moral Theology at Mount St. Mary's Seminary & School of Theology. He holds a Ph.D. in moral theology from Boston College, and a J.D. from Duke University School of Law.
This article appeared in the March 2021 edition of The Catholic Telegraph Magazine. For your complimentary subscription, click here.