Did you Know: Holy Cross-Immaculata Church
by Gail Finke
There is a piece of the True Cross at Holy Cross-Immaculata in Mt. Adams.
It is available for veneration on a side altar in the main church on Good Friday – see it when you pray the steps!
Is the relic of the True Cross real?
While the provenance of relics of the Cross cannot be proved, in 1870 Charles Rohault de Fleury calculated that all the known relics of the Cross together would make up less than third of wood needed for a cross the size of those used for Roman crucifixions.
Praying the steps
People have prayed as they climbed each of the steps to the hilltop church since they were built. Over the past century, "praying the steps" on Good Friday became a widespread custom.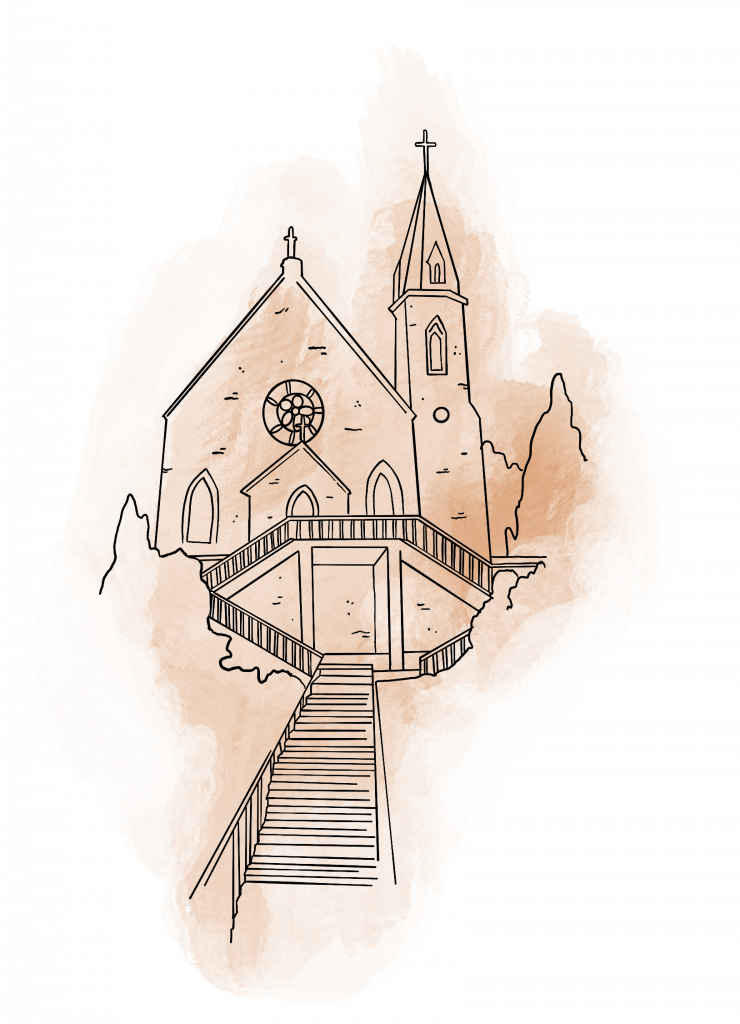 The church is open for 24 hours that day, offering hours for confession and hospitality, along with liturgies and opportunity for prayer and devotion.
85 steps from the sidewalk to the church
1859 first wooden steps built
1911 first concrete steps built
1958 first concrete steps replaced
2009 second concrete steps replaced
We used to pray the steps every year as a family when we lived in Cincinnati, we really miss it being down South! -Tim Creech, former Cincinnati resident
1854: The dogma of the Immaculate Conception declared
1859: Cornerstone for the Church of the Immaculate Conception laid
1970: Holy Cross church closed and merged with Immaculata
German: The ethnicity of Immaculata's original parishioners
Irish: The ethnicity of Holy Cross's original parishioners
Catholics in all ages of the world have been anxious, that every crowning hill and every beautiful valley shall be sanctified by the cross. All over Europe, Asia, Africa, and the New World, we find this Catholic idea carried out. Some may object that too much expense has been incurred in the erection of this building. We do not think so; nothing can be too good for Mary. -Archbishop John Baptist Purcell, 1860
Immaculata
Archbishop Purcell's name for the church he promised to build for the Blessed Virgin Mary during a storm at sea that threatened to sink his ship.
O Mary, conceived without sin, pray for the conversion of this country, AMERICA.
(translation of banner in the painting over the altar, one of five by artist Johann Schmidt: O Maria, ohne Suende empfangen, bitte fuer die Bekehrung dieses Landes, AMERIKA.)