Discerning becoming a Deacon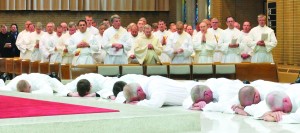 Lent is a time for renewal and a time for discernment: What is God calling me to do?
The Diaconate is the foundation of the ministry of the Order of Deacon: a divine vocational call. A call to vocation is a grace from God. There are many ways in which this grace may present itself: through an invitation on the part of priests, deacons, and the faithful who suggest to you that you might consider entering the diaconate. Through a personal conviction that arises from your own personal prayer life or the pastoral activity you are already engaged in for the sake of building up the kingdom of God.
Take the first step in informational meetings about becoming a Deacon. Two meetings will be held:
Cincinnati: Tuesday, April 4 at 7 pm, St. Ignatius parish in Montfort Heights
Dayton: Thursday, April 6 at 7 pm, St. Helen parish in Dayton
For more information and to register, please contact Deacon Mark Machuga, Director of the Office of the Diaconate at (513) 421-3131, ext. 2641 or [email protected]