Discernment Leads Grad Back to Xavier Liechty's Time in Jesuit Novitiate Helped Guide Him to Faithful Leadership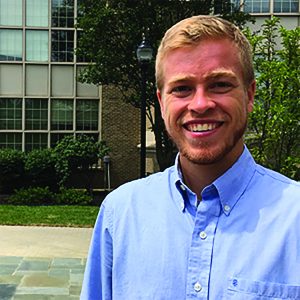 By John Stegeman
One of the benefits of Jesuit education, said Spencer Liechty, is campus ministry.
Liechty was a track and cross country runner at Xavier University who grew in faith and his commitment to social justice thanks in part to campus ministry efforts. Now the 2014 grad is back at XU, working as the Coordinator for Faith and Justice at the Xavier Center for Faith and Justice.
"I had a pretty impactful experience working with campus ministry," said Liechty, who participated with ministry organization Athletes in Action. "I really grew a lot during my four years at Xavier."
His college experience inspired him to embark on a volunteer journey after graduation. Liechty did a year with Americorps. He also worked with a transitional housing organization in Colorado and finally joined the Jesuit Volunteer Corps, which led him to explore a vocation to the priesthood.
"That was a really impactful year for me," Liechty said. "While I was in the Jesuit Volunteer Corp I was immersed in and learned a lot about Ignatian Spirituality… It was during that time I started seriously considering the priesthood."
Inspired by well-known Jesuit Father Greg Boyle, and by his time volunteering, Liechty joined the Jesuit novitiate, a two-year period before a candidate makes first vows.
"One of the great things about Jesuit formation is you are exposed to a lot of different experiences that help you to discern if this is what you are being called to," he said. It was during a pilgrimage retreat that Liechty "began to realize that maybe the path of a Jesuit wasn't what God was calling me to."
For the pilgrimage retreat, Liechty said, novices are given a one-way bus ticket and $30. They are to spend the next 30 days living off the charity of others while making their way back home.
"During that pilgrimage I was met with just radical hospitality that entire month," he said. "I was blown away by the charity of people… It made me realize that I didn't have to be a Jesuit in order to live out that spirituality.
"I recognized that I didn't have to be Father Greg Boyle," Liechty added. "God was calling me to be Spencer and to recognize my own gifts and talents, which I discerned were back in campus ministry."
Liechty left the Jesuits and returned to his alma mater in August of last year, where he has since put the lessons he learned to good use. He runs retreats and social justice immersion programs at Xavier University and says the four years he spent away from campus prepared him for his new role.
"The biggest way it has helped me to become an effective campus minister now is just the way that I love people and am able to be present to them," Liechty said. "I really believe in the ministry of presence. This goes for students and everyone. A lot of people just need someone to listen to them."
Greg Carpinello, senior director of Xavier's Center for Faith and Justice, has seen Liechty's listening skills firsthand. He is now able to help current students as they discern God's plan for their lives.
"His year with the Jesuits gave him significant experience in growing in his faith, but also in understanding the nuances of discernment," Carpinello said. "I think his experience helps students to see that we have to keep discerning at every turn, that God doesn't want us to make a big choice and then be done. We have to keep listening for where we are called to be of most service to the world and that may require us to alter courses we originally set off to travel."
Though Liechty's time in the novitiate didn't lead him to life as a priest, he agrees that it gave him the tools to help others during their college experiences.
"Discernment is one of the things I learned a lot more about, both entering and leaving the Jesuits," he said. "Both were lengthy and intense and careful processes, and both ended up in good results. I definitely think God was calling me to enter, and God was calling me to leave."