Donation from Reds' Chapman to Mount St. Joseph a gesture of friendship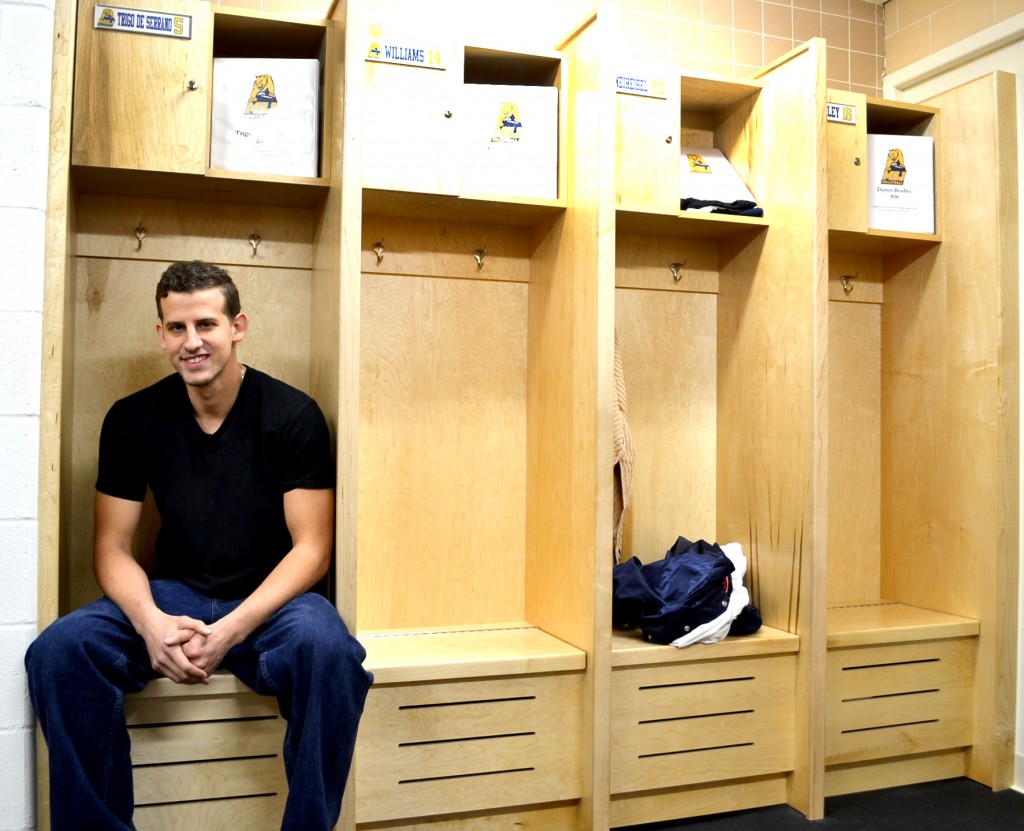 By John Stegeman
The Catholic Telegraph  
Word spread quickly in mid-January that the Mount St. Joseph University men's volleyball team was getting a new locker room courtesy of Cincinnati Reds' closer Aroldis Chapman. The All-Star pitcher donated nearly 80 percent of the needed funds for the locker room renovation. How did a Cuban-born MLB player come to be associated with an NCAA Division III men's volleyball program?
The short answer is that Chapman is close friends with Cesar Trigo de Serrano, a senior on The Mount's volleyball team. The long answer is a testament to God's providence.
Cesar Trigo de Serrano isn't your traditional undergraduate student at Mount St. Joseph. At 28, the history major is the oldest member of the men's volleyball team and is an adult transfer student.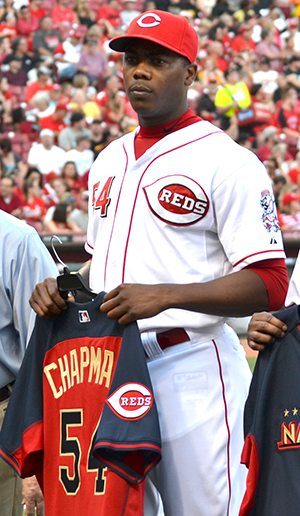 Born and raised in Miami, Fla. to Cuban immigrant parents, de Serrano attended Catholic schools through his early education. He attended the University of Mount Olive in North Carolina for two years on a volleyball scholarship for the 2006 and 2007 seasons. On the court, de Serrano was one of the Trojans' cornerstones. He remains tied for sixth all-time in kills in a single game (21) at Mount Olive. Off the court was a different story as de Serrano no longer felt happy at the school, and wanted to try a larger university.
"He had played there for two seasons and he struggled a little bit academically and getting things done there," Mount St. Joseph men's volleyball coach Ryan Lengerich said. "He'll be the first to tell you he made some mistakes and maybe his commitment level wasn't what it should have been."
After Mount Olive de Serrano transferred out and moved to Cincinnati to be near his girlfriend. He began taking classes at the University of Cincinnati, but believed his volleyball career was over.
A chance meeting with Chapman became the basis for a friendship that led de Serrano back to the court.
"I'm pretty sure someone in here knows what I'm saying"
In 2010, not long after relocating to Cincinnati de Serrano made a late-night stop at a gas station while on the phone with his mother. Speaking Spanish in a Cuban accent, he noticed another gas station patron paying attention to him.
"I tell my mom, I'm pretty sure someone in here knows what I'm saying…," de Serrano said. "He kept smiling and I told her he definitely knew what I was saying. So I hang up the phone and he walks up to me and he goes, 'Are you Cuban?' I go, 'Yeah.'"
It took until Chapman revealed his name for de Serrano to realize Chapman was a famous Cuban ballplayer recently signed with the Reds.
According to de Serrano, Chapman didn't know many people in the area so the two exchanged information and have since become close friends.
"The years kept passing and we just got closer and closer," de Serrano said. "We'd hang out almost every single day when he's here."
The friendship born of that encounter helped lead de Serrano to The Mount.
"We only have a small window in our lives to be an athlete"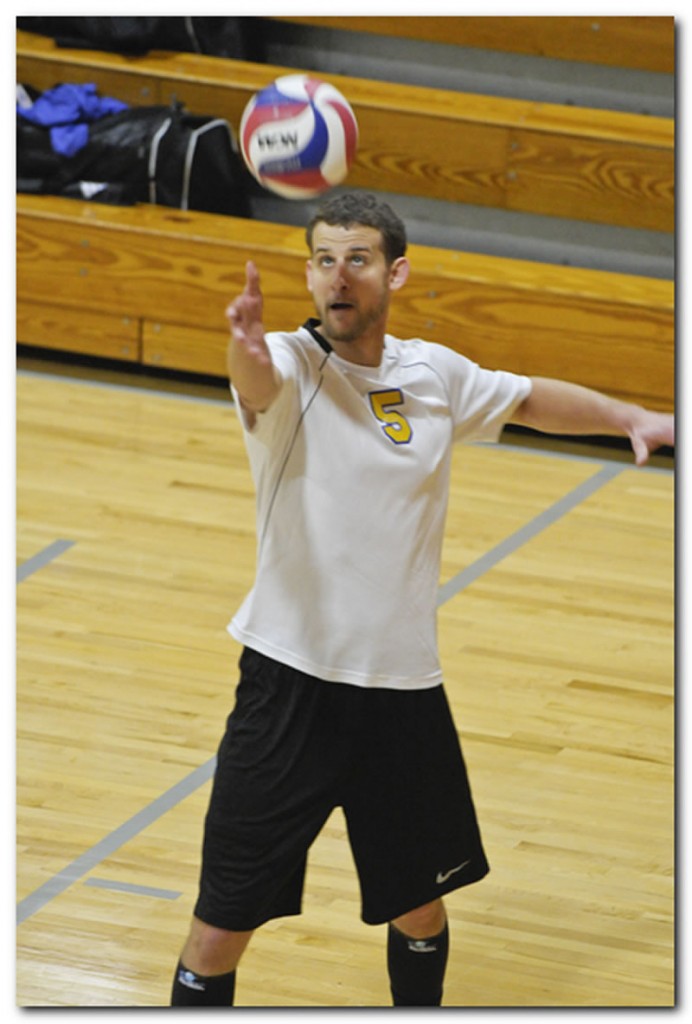 A friend of de Serrano was affiliated with a former MSJ volleyball assistant coach. The friend mentioned the program was looking to rebuild and de Serrano would be a perfect fit, even if it had been several years since he played.
While considering the offer, de Serrano talked it over with Chapman.
"One day I sat down with Chapman and was telling him the story about the possibility of me being a student-athlete again," de Serrano said. "His eyes immediately lit up and he got really excited. He goes, 'Hey man, we only have a small window in our lives to be an athlete. Now if you can be a student-athlete, even better.' He told me, 'I'm not going to be able to throw 100 miles per hour forever, but I can do it now. While I can do it, I want to take advantage of that situation. I think you should do the same.' Slowly but surely he talked me into it."
Lengerich wanted de Serrano for his athletic ability, but his commitment to academics and his teammates were equally important.
"This year he's been outstanding and in great physical shape," Lengerich said. "He had an outstanding semester, making the Dean's List… He's a real leader amongst these guys."
In addition to Chapman's encouragement, de Serrano liked several things about Mount St. Joseph, including the small school feel and volleyball program. A major selling point, however, was the school's Catholic designation.
"God really works in very mysterious ways"
De Serrano, a Catholic, said he and Chapman share a common faith and talk about God often. In de Serrano's case, his faith made Mount St. Joseph a more attractive fit.
"It played a huge role," he said. "Growing up I went to Catholic school pretty much my whole life… This place definitely was the ideal place for me as a Catholic school, and small. It had the thing I wanted in volleyball."
Lengerich, who makes the faith part of the volleyball program with pre-practice prayers, said de Serrano has even led the team by praying in Spanish.
"When we talked about him enrolling here at MSJ, I asked him why?" Lengerich said. "I want my guys to come here for the right reasons. I don't want them to come here just to play volleyball. If they're coming just to play volleyball that's a problem…. One of the first things he said was 'Well I'm Catholic and its a Catholic university and I really understand the values here and that means a lot to me.'"
Looking back at the way de Serrano and Chapman each made their way to Cincinnati, and how each was in the same gas station at the same time on the night they met, de Serrano said he can't help but see God's hand involved. He calls Chapman his "guardian angel."
"I definitely do (see God's hand)," de Serrano said. "(Chapman) and I talk about that a lot. How God really works in very mysterious ways. We've talked about when he defected how many other teams could have picked him up. And how of so many other cities, I came to be here in Cincinnati and at that particular point in time, that night, we both walked into the same exact gas station. Not only did we meet, but we met and became best of friends. God really does work in very mysterious ways."
"Aren't you even going to listen to the amount?"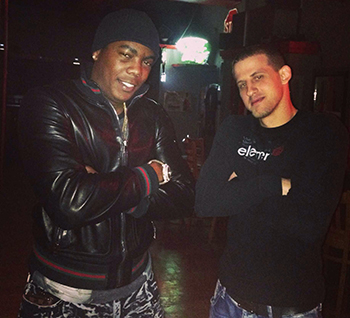 As de Serrano's biggest supporter, Chapman had promised he would attend one of The Mount's' home games. Because the NCAA volleyball season and MLB's spring training coincide, that didn't seem possible.
During de Serrano's first season with Mount St. Joseph, he became injured and thought his season was done for good, but Chapman didn't let him give up.
"He said keep faith," de Serrano said. "Keep your eyes open and keep a positive state of mind and things will be alright."
Two days after receiving that message via text was March 19, 2014. In a spring training game against Kansas City, Chapman was hit in the head by a line drive, suffering a skull fracture. De Serrano was shaken by the moment, but Chapman would recover well. The injury sent Chapman back to Cincinnati before the end of volleyball season. About the same time, de Serrano was cleared to play again.
"One day he surprised me," de Serrano said. "He kind of unannounced just showed up to one of our games."
Lengerich said de Serrano didn't mention his connection to Chapman for sometime.
"He's not going to walk around campus saying, 'I'm friends with a bunch of Cincinnati Reds.' That's not his style," Lengerich said. "Then Aroldis Chapman shows up at one of our games with Logan Ondrusek and maybe another player. We've got these Cincinnati Reds are our little volleyball game. There's not a big crowd so when there's any type of celebrity in the stands they get noticed.
"I was able to meet Aroldis after the game and Cesar introduced me," Lengerich added. "He was a perfect gentleman and was really nice. You could tell he was a very big supporter of what Cesar was doing and his game."
Now acquainted with the volleyball program, Chapman had heard from de Serrano about the teams' effort to raise money for a new locker room. A leader on the team, de Serrano took the effort seriously.
"Back in August or September we started having fundraisers," he said. "We wanted to make enough money to build a new locker room. We worked a football game and worked our tails off but we fell short. It really touched me the way everyone was out there working and I could see in their faces how bummed everyone was that we weren't going to have a new locker room."
Lengerich said with the pace of fundraising, getting a new locker room was "a matter of years." De Serrano wasn't willing to wait, and went to his friend Chapman.
"We kind of fell short of our goal in our fundraiser," de Serrano told the all-star pitcher. "I was wondering if you were willing to help out. He said,' Yeah I'll help out. You know that.' I asked, 'Aren't you even going to listen to the amount?' He goes, 'I don't care. It doesn't matter. I'm going to help out.'"
"It is legitimately a pro-style locker room"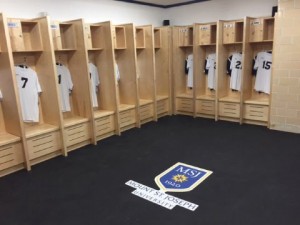 With the donation coming just months before the season, Lengerich made sure the renovation got rolling immediately.
"We got moving on it right away," he said. "Cesar is a senior and this is his last season playing. It didn't make any sense to us to sit on our hands for a year before getting around to doing it. Obviously Cesar had a large hand in bringing this in… We needed to get this done for him, for his senior year."
De Serrano had the honor of announcing the renovation to the team. When it was finished, the players were impressed.
"Everybody was just, wow, look at that," de Serrano said. "It is legitimately a pro-style locker room. I still walk in there today and I sit there and just let it sink all in. I got a little bit emotional one day just sitting in there by myself thinking none of this would have been possible had (Chapman) not talked me into becoming a student-athlete, had he not been there for me every step of the way. If nothing else, I always want people to know how grateful I am to have someone like him in my life."
Mount St. Joseph's volleyball program is still young. Started just five years ago, Lengerich said he isn't aware of the program receiving any major donations, let alone something of this caliber.
"We've never had really any significant donation to men's volleyball that I'm aware of. This is totally unprecedented. That's why it is so exciting," Lengerich said. "Any amount of money, whatever amount it is, has a big impact… People way up the chain further than me talk about this when seeking donations. You don't have to donate $5 million to have an impact here — but if you want to, we'll take it.
The Lions' season opened Jan. 17 and their first home contest is Jan. 24 at noon against Medaille College.
Posted Jan. 20, 2015