Editor's Note: Let's Get Digital
I admit it, I am a die-hard fan of print media. From the time I was a small child, I loved to hold on to books and dive into the stories that awaited me inside their pages. To this day, I love picking up a magazine, a library book, a newspaper and learning more about the world around me. But, I'm also a fan of new media, of the opportunity to view stories in a dynamic format, in a way that the print page can't.
The Catholic Telegraph has been part of the digital sphere for a long time. Our website (thecatholictelegraph.com), has stories from the paper, yes, but is also a hub for breaking Catholic news and an opportunity to view more photos than we can print on the page. As we look toward the future, we are excited to launch two new platforms to meet Catholics where they are in the digital sphere, continue to excite them about their faith and reach a generation of people who consume most of their content through the Internet.
The first is a new email platform that will launch with the start of the new year. Although The Catholic Telegraph has emailed out the Epistle for years, it's time for a fresh new look and even more relevant and relatable content. Our Director of Digital Engagement, Dominick Albano, has made it his prerogative to launch this new platform. There will be two options to sign up for: The Daily Divina, which will contain inspiration derived from the day's Scripture readings sent daily to your inbox; and The Catholic Telegraph Weekly, a news email that addresses local Catholic events, and delivers a Catholic take on current news stories. You can subscribe to both and be on our distribution list for their launch by visiting thecatholictelegraph.com.
To kick off our new emails, we are offering an exciting free digital product called, "The Ultimate Guide to Advent." This fun digital guide contains everything from holy resources and details about the season, to the best Christmas tree farms in the archdiocese and some of our staff's favorite recipes. Download it today by visiting www.thecatholictelegraph.com/advent-guide.
The second new digital project we've launched is a web short video series called "Beyond the Page." In it, I interview columnists, writers and people featured in the print edition of The Catholic Telegraph with short, quickfire, unexpected fun questions that you can only find on our Facebook page and YouTube channel.
So far, I've talked to Dominick Albano about finding happiness (and the musical, Hamilton!) and columnist Ken Craycraft about why we should read his column and how to successfully parent nine children (the answer is not at all what you'd expect).
This month we will air "Beyond the Page" videos with the writer and illustrator team featured in this issue on page 8, as well as another video with participants in the Angelico Project who were featured in our November issue. Don't forget to like our page at facebook.com/the.catholic. telegraph to see our latest videos.
You can also search for The Catholic Telegraph on YouTube and watch these videos on our channel.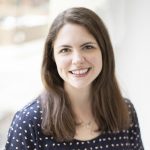 Jessica Rinaudo is the editor of The Catholic Telegraph. Contact her at [email protected].