Editor's Note: People gaming system snags desperate immigrants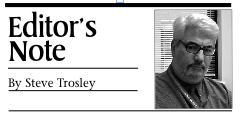 Fast food restaurants have nearly perfected the art of drive-through service. They can measure in seconds how long it takes from order to delivery window.
The systems are set up to be most efficient when the restaurant is most busy. But every now and then there's a glitch and the glitch is usually a customer. There's the guy who's been living underground for the past forty years who doesn't understand the menu. Or there's the woman who has to poll the other occupants of the car before she can order. You will even get a driver who doesn't understand that the drive through is for people whose vehicle windows will roll up and down.
When you one of these glitches strike, it's easy to knock the system. It's not the system. It's the people using the system.
Now consider John, who just got dropped off from work by his employer. John is agitated because he was paid by check for a day of backbreaking work in the hot summer sun.
He doesn't know what to do with the check because he can't cash it at a bank or legitimate business. His employer knows this and half hopes the check will never be cashed. A bank will ask for some form of identification, which John doesn't have because he's an undocumented alien.
He can't get the groceries he planned to buy without the cash, so he will have to use a storefront cash-checking service that will charge him as much as 35 percent (sometimes much more) for the service.  He can't complain to anyone about the unreasonable or often illegal fee because he has no legal standing.
He prays the man who hired him today will be back tomorrow at the empty lot where he found him today. And if he is there, he hopes he pays as much as he did today because there's no way to force the employer to pay a consistent wage or even the mandated minimum wage. Again, there's no place he can go to get justice. He has no standing.
The empty lot where he and his fellows gather, every day including Sunday, so that potential employers can find them, will attract hundreds of adults and teens. Everyone in the region — including the authorities — knows about the lot. When I lived in California, the lot was at the corner of Arrow Highway and Grove Avenue in Rancho Cucamonga. It's probably still there, almost 20 years later.
John will get there early each day during strawberry season, which began this month in Southern California, for example, and owners of small plots of land will pull up in their pickup trucks and shout out how many people they need and how much they will pay for the day. They will pick from the people who come to the truck and the lucky ones will jump in the back for a ride to the field.
In my office, I have framed U.S. citizenship certificates for both of my grandfathers. They immigrated to the U.S., followed all of the rules and if the stories are true, made their families' lives miserable until they were able to pass the citizenship test.    I keep the certificates to remind me that I came from people who were willing to take a risk for a better life. They were exploited along the way.  They were imported for their work ethic, muscle power and willingness to suffer for the promise of something better. They sucked it up and became Americans.
But that doesn't excuse exploiting immigrants now. We're supposed to learn and improve things as time goes on, not march in place.
What's wrong with this system today? John is surviving because he's learned how to provide a service for people who play the system for their own purposes. That includes the employers looking for cheap labor that enables them to keep their prices low for customers who don't care how it gets done as long as the price is right. It also includes the politicians who look the other way on enforcement so they can garner campaign contributions and votes. It also includes many who toil to help the undocumented immigrant but mistake condescension for charity.
As a reform of the United States immigration system takes center stage, we need to remember John in the labor lot and remember, too, that only people, not systems, can make the difference.  We can make the system fair, just and compassionate or we can gum up the works with our apathy or prejudice or complacency.
+++++++
Steve Trosley is editor-in-chief of The Catholic Telegraph