CMA campaign supports archdiocesan ministries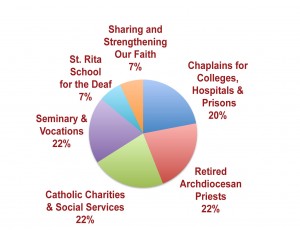 By Steve Trosley
The Catholic Telegraph
Making large numbers out of smaller numbers is Michael Vanderburgh's vocation.
The jovial director the archdiocesan Office of Stewardship has launched the 2013 Catholic Ministries Appeal (CMA) knowing there are fewer Catholics in the archdiocese and knowing he has a tougher goal for this year's drive — $5 million.
He also knows that the CMA is "fewer people giving more" after his 2012 drive beat its goal.
"Development professionals get excited when they get a two percent participation after they send out a solicitation letter." In recent years, the CMA campaign here has had as high as 20 percent participation. But Vanderburgh says that trend is not promising: "We had 20 percent in 2012; 19 percent in 2011 and 18.5 percent in 2012," he said.
Still, the campaign beat its goal, a result that he credits to the pastors, their parochial vicars and parish lay leaders.
"Our difference is that the appeal is reinforced from the pulpit," he said.
The $5 million goal for 2013 is 20 percent more than the 2012 goal. Half of that increase, $500,000 is designated to bolster the budgets of the core ministries of the archdiocese, especially its charitable efforts. The economy has drained many philanthropic sources, including individuals and the government, and need demands CMA make up the difference.
Another $250,000 of the increase will bolster the New Evangelization efforts of this Year of Faith and include training for youth and young adults, priests and lay people in the new initiatives that have been designed to spread and strengthen the faith.
Finally, $250,000 of the increase is designated for sharing with parishes that exceed their CMA goal. For the first time, parishes will designate how it will use funds it collects that help it exceed the CMA goal. This could include expanded ministries, Catholic school scholarships, evangelization ministries and increased support for outreach groups like the St. Vincent DePaul Society and Catholic Charities.
Core ministries benefitting from CMA include the seminary — St. Mary's of the West and vocations; Catholic Charities and other social services; chaplains for colleges, hospitals and prisons; St. Rita School for the Deaf; retired archdiocesan priests; and efforts to share and strengthen the faith.
While Vanderburgh is encouraged by the trend of more generosity from smaller numbers, he said CMA also depends heavily on its one percent giving society, with its three partner circles — Faith, Hope and Charity. Those are individuals who commit to donate one percent of their annual income to CMA.
They were introduced to the 2013 campaign at special luncheons and dinners held in late February and early March.