Elder High School opened Doors in 1922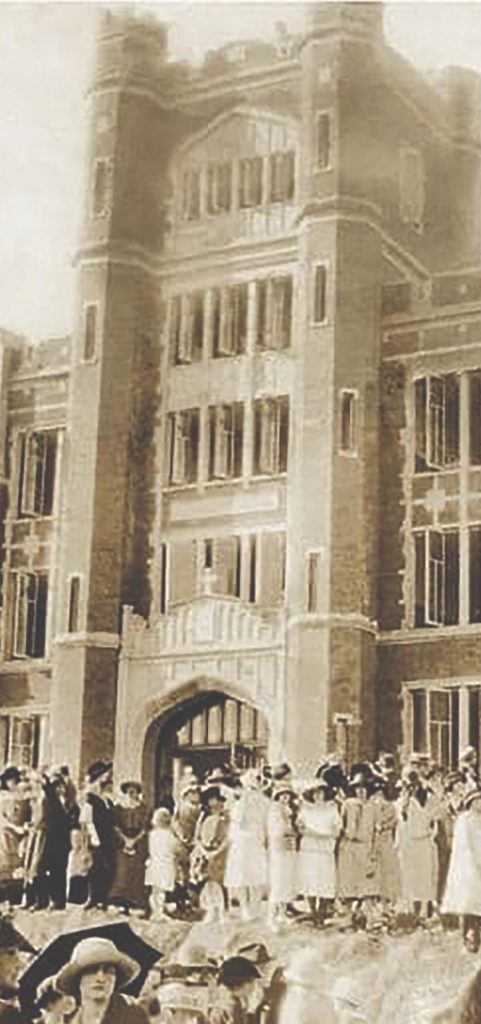 Elder High School, the oldest high school in the Archdiocese of Cincinnati, has been a mainstay of Price Hill for nearly 100 years. The school, which has more than 22,000 alumni, will celebrate its 100th graduating class in 2022.
The high school began when parishioners of St. Lawrence Parish in Price Hill asked to have a ninth grade, and later tenth grade, added to their elementary school in 1913. The new additions were called Elder High School in honor of William Henry Elder, the second archbishop of Cincinnati. Soon after, additional parishes, including St. William, Holy Family, St. Michael, St. Teresa, Blessed Sacrament, Resurrection, St. Vincent de Paul, St. Aloysius, Our Lady of Perpetual Help and Our Lady of Victory, along with Rev. Louis J. Nau of St. Lawrence, asked the archbishop at the time, Henry Moeller, for permission to begin a four-year high school.
The new Elder High School opened its doors in the fall of 1922 as a coeducational school. It was only the fourth high school in Cincinnati and the city's first Catholic diocesan school. Elder remained coeducational until Seton High School opened next door to Elder in the fall of 1927. The two schools still share a special bond to this day, including holding performing arts programs together.
For Kurt Ruffing (Elder '81), current principal and president of Elder, going to the school was a given.
"I have three brothers who all graduated from Elder – Bud ('77), Jim ('78) and Rick ('82)," Ruffing said. "My two older brothers attended Elder, and so I was next in line!"
During his senior year at Miami University, Ruffing shared that then principal, Father Tom Kuhn, connected with him during a district wrestling tournament which Ruffing and his then-girlfriend (now wife) attended. The two chatted about Ruffing's future, and after a phone call the following weekend, Ruffing accepted a position to teach at his alma mater.
"I initially taught math and computer science, then served 19 years as assistant principal under our former principal, Tom Otten, and now I am in my fifth year as principal," Ruffing said.
Ruffing shared that while he had several memorable experiences as a student at Elder, one of his favorite memories occurred more recently.
"Last year, because of the COVID-19 pandemic, we were not able to hold our traditional graduation exercise," Ruffing explained. "Instead, we held personalized ceremonies for each graduate over four evenings at the main entrance to the school. Those were very long days for our faculty and staff, but it was well worth it. To see the reactions of the graduates and their parents (and family members) was incredible. Each graduate walked up the steps to the main entrance, was greeted and given his diploma, all while Pomp and Circumstance and the school's alma mater were being played. Many parents and graduates later expressed their appreciation for the time and effort put into the individual, personalized ceremonies."
Looking ahead to what's next for Elder, Ruffing shared that the school is currently in a $10 million capital campaign with the goal, "to stay in Price Hill for another 100 years!"
"We are as strong now as we were in 1922 when the doors opened, and people notice that," Ruffing added. "Elder's tradition, spirit, loyal alumni, community service, and our motto, Altiora – 'To Strive for the Higher Things' [makes the school unique]. There is a quote on the wall in the lobby of our new fitness center – 'What I Had I Gave, What I Saved I Lost' – and this embodies what we attempt to instill in our students every day. Give everything you have and make the best of your God-given talents."
This article appeared in the June 2021 Bicentennial Edition of The Catholic Telegraph Magazine. For your complimentary subscription, click here.