Environmental concerns tops Good Shepherd program
August 30, 2012
"Facing Our Future With Hope" will mark the Oct. 4 Feast of St. Francis, patron saint of the environment, at the Community of the Good Shepherd.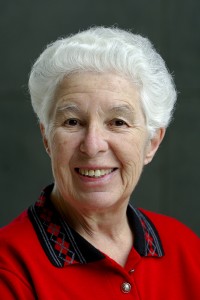 The program, featuring Sister of Charity Paula Gonzalez, is sponsored by the Green Team with assistance from the Department of Pastoral Care and Outreach and the Department of Faith Formation.  The free event is set for Sept. 29 at the Community of the Good Shepherd, 8815 East Kemper Road, Cincinnati. (513-489-8815 for reservations.)
Environmental challenges will be addressed as well as God's call to discern just how we as people of God can discover possible solutions to prepare an environment for generations to come.
Featured speaker Sister Paula has been described as "a national treasure" She has presented worldwide more than 1,700 talks, retreats and mini-courses.
Sister Paula enjoys recounting how she converted a former chicken shack on the Mount St. Joseph campus during the 1990's into a state of the art solar residence. She designed and did much of the work of "La Casa del Sol", a 1,200 sq. ft. passive-solar house that she shares with another Sister of Charity. Considerable success with applications of solar energy has earned Sister Paula the nickname "Solar Nun."
She was a biology professor at the Mount for more than 21 years. She is a widely published author and a consultant.
Sister Paula is a futurist and environmentalist who has offered talks, mini-courses and retreats on Learning from Earth, Eco-spirituality, Renewable Energy, Climate Change, Sustainable Futures, The Earth Charter and The Future of Religious Life.  Since 1980 Paula has constructed two solar buildings modeled on nature's cyclic processes, along with producing several book chapters, articles and audiotape and videotape programs.
The other featured speaker is Franciscan Father Paul Desch, who has been a friar for 60 years and a priest for 50 years. He has taught for 15 years at Duns Scotus College after earning his doctorate in Belgium, served a Cajun and African-American parish in Louisiana, been a retreat master/spiritual director and has counseled University of Cincinnati students as an outreach minister at the Newman Center. Currently, Father Desch serves Holy Name Parish in the Mt. Auburn area of Cincinnati.
In the tradition of St. Francis, Father Desch will speak to the priceless value of nature, the wonder of all our brother and sister creatures. He is known for his calm, deliberate, witty presentations.
The Good Shepherd Green Team —Care for God's Creation — purposely and actively advocates living out Catholic principles to protect and care for all God's good creation. They educate, inspire, and energize our fellow parishioners and the larger community to live earth-friendly, sustainable lifestyles.