Faith, Excellence, Service: Three Guiding Principles for Our Catholic Schools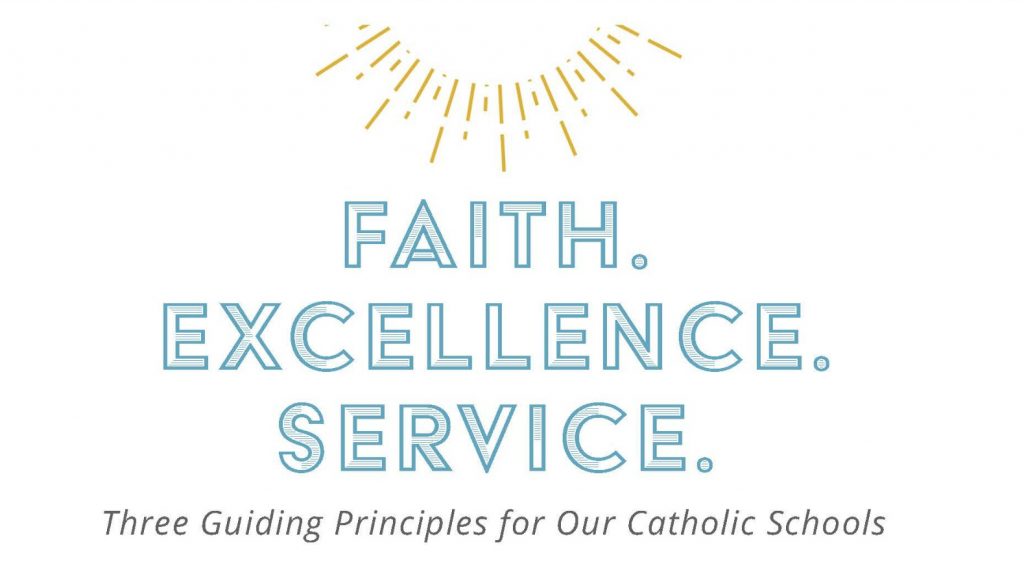 by Michelle Dushensky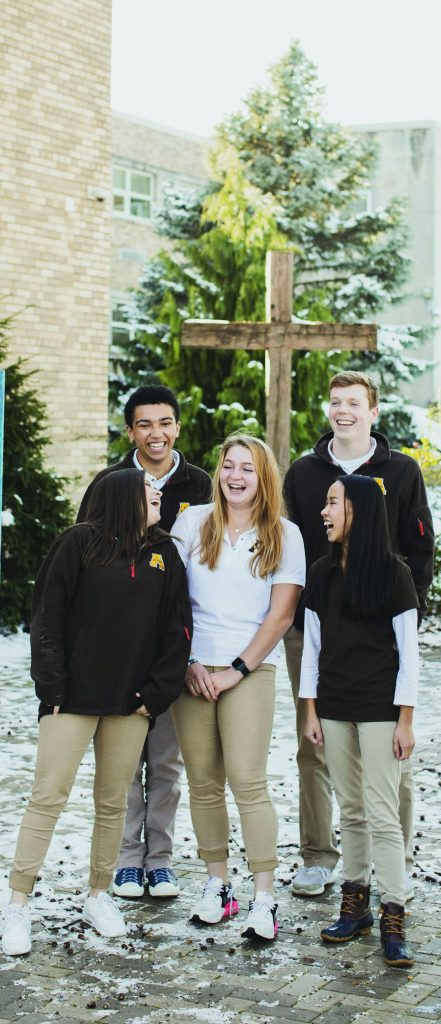 Since 1974, Catholic schools around the country have participated in Catholic Schools Week (CSW). Traditionally, CSW is held at the end of January, and, each year, the National Catholic Education Association (NCEA) chooses a theme to highlight an aspect of Catholic schools. This year's theme, "Catholic Schools: Faith. Excellence. Service." calls attention to the purpose of Catholic schools – to form disciples, to grow the whole person and encourage students to be witnesses to Catholic social teaching. For the 111 Catholic schools in the Archdiocese of Cincinnati, faith, excellence and service mean going above and beyond.
"They are guiding principles for all our schools," said Superintendent Susie Gibbons. "If faith isn't the first thing that we talk about – the beginning and the end and embedded everywhere – then we might as well close our doors."
If you spend time at any of the 22 high schools or 89 elementary schools in the archdiocese, you experience faith, excellence and service at their best. Here's a deeper look at how three of these outstanding schools across Western and Southwestern Ohio live out this year's Catholic Schools Week theme.
ARCHBISHOP ALTER HIGH SCHOOL, DAYTON

Founded in 1962 as the fifth Catholic high school in the archdiocese and named after its fifth archbishop, Archbishop Alter High School is committed to challenging students to reach their full potential. For the more than 10,000 alumni and Alter's current 515 students, that entails more than just receiving a high-quality academic experience.
Principal Lourdes Lambert said Alter is, first and foremost, a Catholic high school – and the crux of any Catholic school is faith. At Alter, that means not only teaching students to be morally and ethically grounded, to be good stewards of the earth, to serve others and to respect life and the dignity of every person, while also providing opportunities for students to share and live their faith.
In addition to school Masses, Alter offers a student-run Bible study and weekly faith sharing opportunities. On Wednesday mornings, Alter has Upper Room, a student gathering that includes worship, prayer and fellowship.
As the school motto says, Alter was "founded in faith," and it is also "preserved with pride" – a pride that comes from a tradition of excellence. Consistently at the top of the threshold for standardized testing and achieving great successes in athletics, Alter strives for excellence both inside and outside the classroom, on and off the field.
"We are determined to succeed at a level of excellence because that's what we're created for," said Lambert. "We have a Creator who has told us anything is possible, that we're created in His likeness and image and we're made for excellence. I think it permeates everything we do."
The school is also "sustained by [a] spirit" that manifests itself in the way the students give of their time, talent and treasure. Alter engages in whole-school and grade-specific service opportunities. For example, freshmen spend an entire day serving nonprofit agencies in the Dayton area, juniors serve the needs of their parishes, and the whole school participated in a toy drive for a local children's charity last Christmas.
"I've been blown away," said Lambert. "I get to see God's love in action every single day through the children that come to this school, through the parents, through the teachers."
GUARDIAN ANGELS SCHOOL, CINCINNATI

In the words of Principal Corey Stoops, Guardian Angels School (GA) is a very special place. Founded in 1895, the elementary school focuses on delivering an individualized education to each student, and preparing him or her to be a faithful disciple of Christ through service and leadership. In fact, students are encouraged to earn their HALO's by being Honest, Accountable and a Leader to Others.
While service and leadership are two aspects the faculty and students focus on every day, it's Christ who is at the center of the school.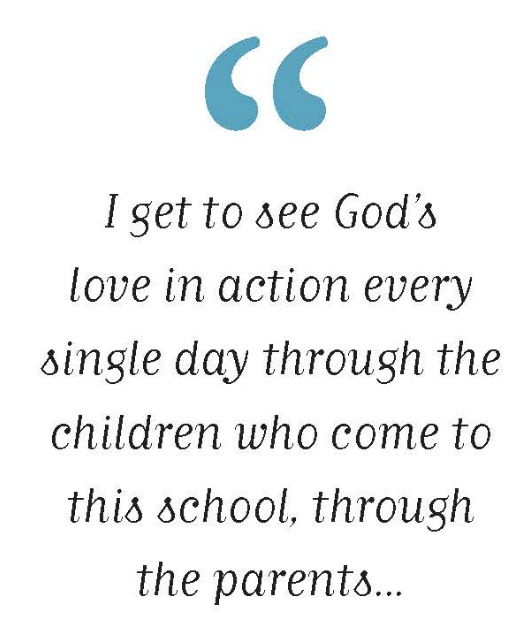 "Faith guides us in everything we do," said Stoops. "We're blessed to have so many faith opportunities, but, really, who we are is the culmination of all of those things coming together to create outstanding people – people of faith, who are here for one another, who serve one another and who are kind and respectful to one another."
From weekly Mass and monthly adoration to recitation of the school prayer every morning and the Angel of God prayer every afternoon, the students at GA have many opportunities to engage in faith. Other traditions include a living rosary in October, annual living Stations of the Cross and a special celebration on the Feast of the Guardian Angels. The elementary school also has a relationship with Mount St. Mary's Seminary and participates in the Adopt a Seminarian program.
In addition to helping students grow spiritually, GA works hard to make sure every student excels academically.
"You can define [excellence] in so many ways," said Stoops. "Academics definitely are a part of that, and we're at the top of tiers across the board in the academic subjects. But, really, more than that, we define excellence as making sure that everybody is challenged and guided and taught according to his or her ability level. It's not just a general approach for everybody. It is looking at the individual student and determining what he or she needs to be successful."
Every student at GA also participates in community service.
"As Catholic Christians, we're responsible for helping others," said Stoops. "We find the need that is present within our community and outside our community, and we go – we serve."
GA's biggest service event is Servathon, a full day of service. For some of the classes, that means going to Matthew 25 Ministries or the food bank. For the younger grade levels, it's staying on campus and making treat bags for service members. But Stoops said that what's most important is teaching children and their families the importance of service.
"We really try to instill a servant's heart in all we do," said Stoops. "We want our students to be reflective of who they are, the talents that they have been given, and then to take that a step further and say, 'How can I use these talents and these gifts to help others?'"
PIQUA CATHOLIC SCHOOL, PIQUA

Since its founding in 1987, Piqua Catholic Elementary School has provided an engaging education to prepare its students for a bright future. This is made possible because Jesus is at the center of everything Piqua Catholic does.
"Our mission here is to be an example of Jesus' love," says Principal Brad Zimmerman. "Faith isn't something that you keep quiet. Faith is something that you share with others through your words and actions. … You see faith as Jesus.
You see faith … in the things we do every day," he added. Piqua Catholic offers its current 187 preschool through eighth students many opportunities to share and deepen their faith. Every morning during announcements, the entire school offers special intentions and prays together. On Wednesdays, there is an all-school Mass, followed by adoration for third through eighth graders. This past October, all students participated in a living rosary. And before they graduate, every student attends two Damascus Catholic Mission retreats where they learn about science, nature, leadership and faith.
When it comes to excellence, Zimmerman said he talks to the kids about being the best version of themselves every day, whether that's in the classroom, on the court or at home. He also said that excellence is striving to be the best school for its students and their families.
With Jesus at the heart of Piqua Catholic, serving others is a natural manifestation of the school's mission. From collecting canned goods and toiletries for The Bethany Center to sending care packages to the military, Piqua Catholic focuses on the corporal works of mercy as a way to serve people in the surrounding area.
"[Service] makes me think of the virtue of charity, which involves selfless, sacrificial love or giving of oneself – which immediately makes me think of Christ," said Zimmerman. "We're here to serve others … to be an example of Jesus' love."
This article appeared in the 2021 edition of The Catholic Telegraph Magazine. For your complimentary subscription, click here.