Family Activities for May 2013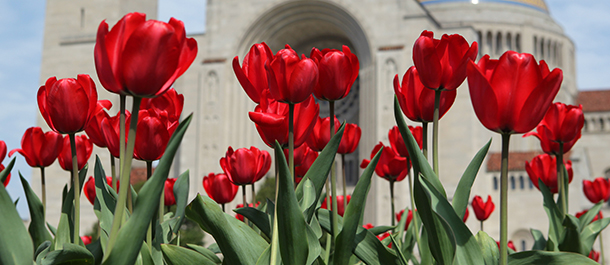 Staff Report
With the arrival of May comes warmer weather, the first summer holidays, graduations and more. Let this month be one of spiritual renewal and growth for your family by trying out some of the suggested family activities below.
Mother's Day
Though Mother's Day isn't a church holiday per se, each year we celebrate our Moms on the 2nd Sunday of May. Celebrate by developing a timeline on your Mom's important dates: first communion; confirmation;  8th grade, High School, and College Graduation, etc. This is a great opportunity to find out a little more about Mom.
Then throughout the year take some time to celebrate either through morning or evening prayer, mass that day, a special dinner, and celebrate the gif of your Mom throughout the year.
Visit St. Peter in Chains
If you're coming down for a Reds Game or a Downtown Cincinnati activity, stop by and spend time in prayer at the Cathedral. During the week if you're coming down for a night game, there's a 5:15 p.m. mass. On Saturday the Cathedral has an 11:30 a.m. mass, great to catch before the 1:15 p.m. first pitch. Saint Peter in Chains Cathedral is the cathedral of the Roman Catholic Archdiocese of Cincinnati. It is a Greek revival structure located at 8th and Plum Streets in downtown Cincinnati. To plan your visit, go to www.stpeterinchainscathedral.org
Memorial Day: May 27
It's easy to lose sight of this day, as we get caught up in cookouts, gearing up for summer fun, etc. Take some family time to prepare for Memorial Day by listing those that served in the military in your family. Take that list and develop a prayer service sometime Memorial Day and recite their names and share a story, especially if you're having a family picnic or reunion that day.
Visit Maria Stein Shrine
A truly blessed part of the Archdiocese of Cincinnati is the Maria Stein Shrine of Relics, about 2 hours from Cincinnati; 1 ½ hours from Dayton, in the Northwest part of the Archdiocese. You can plan a quiet day of reflection and prayer amidst this historic landmark. For more information their website is www.mariasteinshrine.org.
Graduations (May and June)
Plan a prayer service either before the graduation, or at the beginning of a graduation party. Have a thanksgiving prayer, reading from the bible, and have petitions appropriate for the graduate, the family, etc. Have the new graduate prepare remarks about their hopes and dreams for the future.  End the prayer service with an Our Father, Hail Mary, and Glory Be.