What keeps me Catholic? Surprise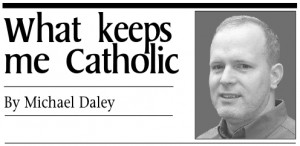 Though I'm having a hard time admitting it to myself, I'm now what's considered to be middle-aged. As much as I want to deny it, one thing that confirms this stage in my life at present is my dislike, even fear, of surprises.
To avoid them I usually arrive five minutes early for meetings, back up computer files, do preventive maintenance on our cars and home, read the small print, eat and drink in moderation, put on sunblock, save for the kids' college fund and my retirement. I want to be prepared…for whatever comes.
One of the reasons that many people are members of the Catholic Church is because of the sense of stability and security it provides too. There are rules to live by, authorities to provide guidance, access to God through the sacraments, and a community for support. When other aspects of life seem to fail, the one sure thing is Catholicism. No surprises please.
Yet, a word I've recently been hearing a lot of surrounding the Catholic tradition is surprise.
It began earlier in the year with the surprise announcement of Pope Benedict XVI's resignation when he admitted that he didn't have the strength of mind and body to continue. In the process he became the first pope in nearly 600 years to step down from the office of the papacy.
At the conclave to elect the new pope, there was an honest, but surprising, public recognition from numerous cardinal electors that the Vatican was in need of reform as to greater transparency, accountability, and efficiency. Though a program of change had been envisioned, no real clear candidate emerged.
When the white smoke cleared, and following the words "Habemus papem," the church received an even greater, unexpected surprise — it was Jorge Bergoglio, the Cardinal Archbishop of Buenos Aires, Argentina, who was elected pope.
When all the excitement died down from that pronouncement, the surprises only continued. It was quickly pointed out that, although he has about as Italian a last name as you can get, he is the first pope from Latin America. Francis is also the first Jesuit to ever become pope.
Perhaps the greatest initial surprise, which I think no one saw coming, is his name — Francis. In explaining why he chose it, Pope Francis said that as votes appeared to be mounting in his favor, a cardinal friend said to him, "Don't forget the poor." "And those words came to me: the poor, the poor," Francis explained. "Then, right away, thinking of the poor, I thought of Francis of Assisi … How I would like a Church which is poor and for the poor!"
In the meantime Pope Francis has declined the use of the papal apartment preferring to live in a simple room at the Casa Santa Marta where he stayed before he was elected. On Holy Thursday, at a juvenile detention center in Rome, he washed the feet of both women and non-Christians which some suggested broke liturgical norms.
During his Easter Vigil homily, I think Pope Francis captured well the excitement, nervousness, and anxiety of these past few months: "Newness often makes us fearful, including the newness which God brings, the newness which God asks of us … often we would prefer to hold onto our security, to stand in front of a tomb, to think about someone who has died, someone who ultimately lives on only as a memory … We are afraid of God's surprises; we are afraid of God's surprises! He always surprises us!"
In this liturgical season of surprise — Easter — what keeps me Catholic is surprise. I am a follower of a crucified person who is raised from the dead to new life and invites you and me into it. Surprise indeed.